With the holiday season now here, PHR continues its look at what teams are thankful for as the season heads towards the midway mark. There also might be a few things your team would like down the road. Let's take a look at what's gone well in the early going and what could improve as the season rolls on for the Tampa Bay Lightning.  Click here for the other articles in this series. 
What are the Lightning most thankful for?
A dominant forward group that is among the best in the league.  Nikita Kucherov and Steven Stamkos are franchise forwards, Brayden Point is heading in that direction if he can keep up his level of play, while Tyler Johnson, J.T. Miller, Yanni Gourde, and Ondrej Palat are all capable top-six forwards.  This group has led Tampa Bay to become the highest scoring team in the league this season by a fairly sizable margin.  They have high-end skill and the depth that few teams can match which is going to make them tough to beat when the playoffs come around.
Who are the Lightning most thankful for?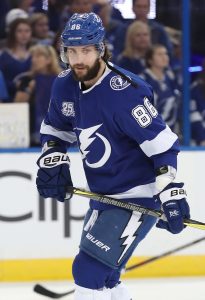 There are a lot of players they're thankful for but Kucherov stands atop the list.  His 100-point season came as a bit of a surprise last season after not really approaching that mark but instead of taking a step back, he is on an even more impressive pace, averaging better than 1.5 points per game to sit second in league scoring.  He can carry his own line, allowing the Lightning to run two extremely strong scoring units.
They're also quite thankful for both his current contract and his future one.  Kucherov is in the final year of an extremely underpriced bridge deal that sees him rank sixth among Tampa forwards in terms of cap hit.  That's allowing them to have the flexibility to add to this roster before the trade deadline.  He earned a major raise on his new deal that kicks in next year at a $9.5MM AAV but that's still well below the cost that some expect some of the top RFA forwards to get this summer while also checking below some of the top contracts handed out in recent years.  It's hard to call $9.5MM a bargain but if Kucherov continues to produce like he has, it will turn out to be one.
What would the Lightning be even more thankful for?
Mikhail Sergachev emerging into a legitimate top-four defenseman.  There is a substantial drop-off on their back end past Victor Hedman, Ryan McDonagh, and Anton Stralman and veterans like Dan Girardi and Braydon Coburn are what they are at this stage of their careers.  Sergachev becoming a regular top-four player would really allow them to lean heavily on their top two pairings come playoff time and lessen the reliance on their depth veterans.  Beyond this season, Stralman is set to become an unrestricted free agent and they will be in tough to keep him around so they will be counting on the 20-year-old to fill that spot in the very near future.  If he can get to that level in the second half of 2018-19 though, they'll be even more dangerous in the postseason.
What should be on the Lightning's Holiday Wish List?
If Sergachev isn't ready for a full-time slot in the top four, GM Julien BriseBois may look to try to add depth to that position.  Considering that three of their top six are UFAs in July, they're not forced to look just at veteran rentals; it wouldn't be surprising to see them try to target a young, cost-controlled player that will be part of the core beyond this season.
However, payroll room is going to be an issue for next season and beyond.  With that in mind, BriseBois will likely be looking for opportunities to free up some salary cap space after this season.  Veteran Ryan Callahan has long been speculated as someone that they will eventually look to move while Alex Killorn could be deemed expendable with the way youngsters like Mathieu Joseph have performed this season.  They won't be forced to make this type of move by the deadline but if the opportunity presents itself to free up some space without significantly hurting their roster, expect them to take it.
Photo courtesy of USA Today Sports Images.