It would be fair to say Brian Elliott's had a rather long and winding NHL career. Now 38 years old, he's got quite the career resume for someone taken in the ninth round of the NHL Draft in 2003.
The Newmarket, Ontario native put up some okay numbers when he was breaking into the league with the Ottawa Senators in the late 2000s, but it wasn't until he landed with the St. Louis Blues in free agency in 2011 that he became solidified as a more well-known NHL netminder.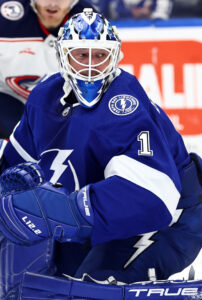 He was coming off a rather conflicting 2010-11 season at the time. Despite starting a career-high 51 games between the Senators and Colorado Avalanche, his numbers were abysmal, especially for someone pegged as a starter – his .893 save percentage was well below the league average at the time, and he conceded more than 30 goals above what an average netminder would've allowed throughout the season.
That all changed once he landed in St. Louis, where he became a solid tandem netminder over the years with Jake Allen. While he never displayed the consistency necessary to be a high-end, full-time starter, he did earn Vezina consideration thanks to a couple of years (including his first in St. Louis) where he boasted above a .930 save percentage.
The days of Elliott being able to take over the crease like that are long gone, however. He hasn't started more than 30 games since the 2017-18 campaign with the Philadelphia Flyers, and he's posted a save percentage above .900 just once in the past four years.
His last season didn't do much to inspire confidence that he could still compete at the highest level. Behind a slightly weakened but still stout Tampa Bay Lightning defense, Elliott put together a substandard season more in line with what we've seen from him since the Blues traded him to the Calgary Flames in 2016. In fact, he's put together just one above-average season since departing the Blues – 2021-22 with Tampa, in which he started just 17 games but posted a respectable .912 save percentage.
There could still be some suitors for Elliott on the market. However, it'll likely be limited to teams looking for insurance behind an injury-prone or unproven young backup. If he wants to keep lacing up the skates for an opportunity for NHL action, it'll need to be with the understanding that a demotion to the AHL could be possible.
Stats
2022-23: 22 GP, 12-8-2, 2 SO, 3.40 GAA, .891 SV%
Career: 543 GP, 279-167-54, 45 SO, 2.57 GAA, .909 SV%
Potential Suitors
Elliott was linked to the Toronto Maple Leafs earlier this summer for a third-string role, but Toronto filled that gap on their depth chart earlier this month by signing Martin Jones to a one-year deal. While it won't be Toronto, Elliott could still find a home for a similar type of role elsewhere.
Obviously, his most desired fit would be on a contending team looking for insurance, similar to how Jonathan Quick ended up in a Vegas Golden Knights jersey after last season's trade deadline. He didn't see any playoff action but was around the team and ended the season lifting his third Stanley Cup. Elliott is still looking for his first.
One of the suitors in the Eastern Conference who immediately jumps out is his old team in Tampa Bay, but it's unlikely for a handful of reasons. First, it seems rather puzzling that Elliott would go un-signed this late in the summer only to return to Tampa, although a PTO with the Lightning could still be an option if he doesn't have another offer by the time training camps roll around. Tampa also signed Jonas Johansson to a contract earlier this summer – prying him out of a deal in the Swedish Hockey League he'd signed prior, likely with the guarantee of NHL time behind Andrei Vasilevskiy. With the Lightning's minor league tandem already seemingly set with Matt Tomkins and Hugo Alnefelt, Elliott's been boxed out of the depth chart there.
The only team with playoff aspirations in the East with a glaring hole on their goalie depth chart is the New York Islanders. Their options are quite slim behind Ilya Sorokin and Semyon Varlamov, and 23-year-old Jakub Skarek is currently pegged as their third-string option without much development to showcase after four seasons in the minors. The organization's had Cory Schneider play a veteran third-string role the past handful of seasons, and if Elliott is okay with a similar arrangement, he could see some limited playing time on the Island should a long-term injury affect either of Sorokin or the aging Varlamov.
His options open up considerably if he wanted to head to the Western Conference, however. The Golden Knights might be looking for a third-string netminder still, depending on how they feel about 24-year-old Jiri Patera being their first available call-up option behind Adin Hill and Logan Thompson. He could also be an option to return to Colorado if they don't feel Justus Annunen is ready to take on a full-time backup role if called upon. Backup Pavel Francouz has a firm grip on the second NHL job behind Alexandar Georgiev, but he's missed lengthy periods of time with injury since coming over to North America in 2018.
Projected Contract
Given he won't be landing a full-time backup role anywhere, Elliott is looking, at best, at a one-year, one-way league-minimum deal for $775K with the expectation he could be placed on waivers to start the season, much like Jones in Toronto. If he does feel like he's got enough in the tank to hold out for some more guaranteed opportunity, he could hunt for a PTO with a team in the coming days to try and compete for a backup role. This late into August, though, his options would be extremely limited as few teams are still looking to fill a bonafide backup spot on their depth chart.
Photo courtesy of USA Today Sports Images.