As the holiday season quickly approaches, PHR will take a look at what teams are thankful for as the season heads past the one-quarter mark. There also might be a few things your team would like down the road. Let's take a look at what's gone well in the early going and what could improve as the season rolls on for the Philadelphia Flyers.  Click here for the other articles in this series. 
What are the Flyers most thankful for?
The Flyers should be thankful that the team has made the necessary front-office and coaching changes and can now move forward for the rest of the year. While the firing of general manager Ron Hextall came as a shock to many, the team has since hired GM Chuck Fletcher who has replaced Dave Hakstol and seems poised to stick with current coach Scott Gordon for the remainder of the season at the very least, which gives the team some current stability. The hope is that between Fletcher and Gordon, the team can attempt to refocus their energy on the ice and try to fix some of the issues that have plagued the team.
Fletcher is likely going to make several moves, whatever those are going to be. There are questions whether Fletcher will attempt to trade for a goaltender now that Carter Hart has debuted in Philadelphia, but the team may also be more inclined to focus more on their defensive struggles as the team just isn't getting it done on the blueline. Regardless, change is coming and should be here within two months.
Who are the Flyers most thankful for?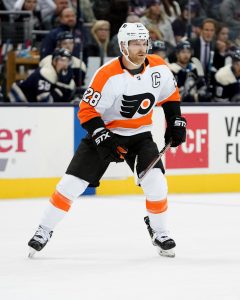 While the Flyers had one of the best first lines in hockey a season ago with Claude Giroux, Jakub Voracek and Sean Couturier, only Giroux seems to be keeping with an impressive pace this year. Giroux is the only player who averaging more than a point per game as he has 12 goals and 42 points, which is good for 16th in the NHL. While his goal totals aren't as high as last season when he tallied 34 goals for the season, Giroux continues to work his magic and set up as many of his teammates as possible.
While he hasn't seen as much time with both Voracek and Couturier, the team has opted to move Giroux back to the center position to focus on getting some of their wingers moving. The most recent attempts is pairing him up with Travis Konecny and James van Riemsdyk, but he has seen time with a number of players to get more involved in the team's 18th-ranked offense.
What would the Flyers be even more thankful for?
An improved blueline. The team had high expectations with their defense, especially from their top two as Shayne Gostisbehere and Ivan Provorov were expected to continue their ascent to develop among the top NHL D-men. Instead, both have struggled a bit, especially on offense. Gostisbehere has a team-low minus-15 rating and just 15 points on offense so far this season, quite down from his 65-point season. Provorov hasn't performed much better with a minus-8 rating and has just 11 points after a 41-point campaign. Few others on the blueline have stepped up either. The team ranks third in the league in goals against as they have allowed an average of 3.62 goals per game.
What should be on the Flyers' Holiday Wish List?
The team must figure out its goaltending situation as soon as possible. Hextall spent most of his time waiting for his multitude of goalies to return from injury, but neither the original intended starters, Brian Elliott or Michal Neuvirth, have been able to stay healthy for any significant amount of time. Elliott has fared adequately in 14 appearances this year as he boasts a 2.59 GAA and a .911 save percentage. Neuvirth has been a disaster. Anthony Stolarz showed some success recently, but when he went down, the Flyers had no choice but to bring up Hart, who has fared well in his first three starts. However, at 20 years old, few believe that he can keep up the pace at the NHL level. The team must decide whether to use some of their assets to acquire an interim goaltender.
Photo courtesy of USA Today Sports Images.