With the holiday season now here, PHR continues its look at what teams are thankful for as the season heads towards the midway mark. There also might be a few things your team would like down the road. Let's take a look at what's gone well in the early going and what could improve in the second half for the Vegas Golden Knights.  Click here for the other articles in this series. 
What are the Golden Knights most thankful for?
A well-balanced attack that has allowed them to overcome a long list of injuries so far.  Vegas sits in the top ten in goals scored despite four of their better forwards missing at least eight games due to injuries (Max Pacioretty, Paul Stastny, Alex Tuch, and Erik Haula).  Instead of having one or two players carry the load, they've continued to be successful with their by-committee approach that actually has three players tied for the team lead in scoring.  While some teams are shifting towards loading up a top line to do most of their scoring, the Golden Knights are spreading the wealth and are being rewarded for it.
Who are the Golden Knights most thankful for?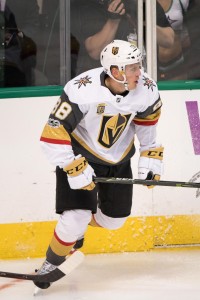 Nate Schmidt still isn't in the discussion by many as a top defenseman but he has had a significant positive impact since returning to the lineup following his 20-game suspension to start the season.  The Golden Knights were 8-11-1 to start the season but they have been one of the top teams in the league since then, posting a 15-4-3 mark which has helped them move within striking distance of the top spot in the Pacific Division.  Schmidt has stepped in and logged the most ice time per night while also contributing at a career rate offensively, averaging 0.59 points per game.  His presence has also shifted everyone down a notch on the depth chart into roles they're clearly more comfortable handling.  This was going to be a contract year for him but back in October, the 27-year-old inked a six-year, $35.7MM extension that's looking like a nice bargain at this point.
What would the Golden Knights be even more thankful for?
Aside from their top players simply staying healthy, more consistency and production from Pacioretty.  Their key offseason trade acquisition has not produced at the level the team was hoping for when they picked him up on the eve of training camp and handed him a four-year, $28MM extension immediately thereafter.  His 10 goals in 30 games aren't terrible on the surface but all but three of those came in a span of six games; he has been very quiet otherwise.  Notwithstanding what they gave up for him (which looks worse when considering the price they paid for Tomas Tatar who was sent to Montreal as part of the Pacioretty deal), he was brought in to really bolster and deepen their attack, something that Tatar didn't do last season.  That simply hasn't been the case too often so far.
What should be on the Golden Knights' Holiday Wish List?
Secondary scoring is something GM George McPhee has tried to shore up a few times already and since they're going to continue to be a team that scores by committee, adding some capable scoring depth in the middle six would be beneficial.  Some more defensive depth would also be useful but top prospect Erik Brannstrom could also be called upon to see if he's ready for full-time duty.
While Vegas has plenty of cap space this season, that isn't the case for 2019-20 and beyond thanks to the extensions given to Pacioretty, Schmidt, Tuch, and goalie Marc-Andre Fleury.  With that in mind, they will likely be taking a long look at the rental market over looking to bring in someone under team control beyond this year.
Photo courtesy of USA Today Sports Images.