As the holiday season quickly approaches, PHR will take a look at what teams are thankful for as the season heads past the one-quarter mark. There also might be a few things your team would like down the road. Let's take a look at what's gone well in the early going and what could improve as the season rolls on for the Pittsburgh Penguins.  Click here for the other articles in this series.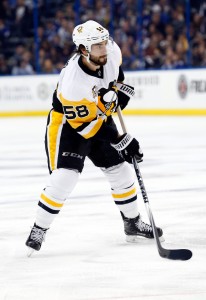 What are the Penguins most thankful for?
Kris Letang's return to health.
It's hard to mention the Penguins without immediately pointing to the continued stardom of Sidney Crosby, or the luxury of having Evgeni Malkin as a second-line center, but if anyone can steal some of the spotlight it's Letang. The 31-year old defenseman has played 34 of the Penguins' 36 games this season and is showing why at one point in his career he was considered one of the best in the entire world. After years of struggles with injuries both major and minor, Letang finally found some health last season and rewarded the Penguins with a 51-point season. That was good for 17th among all NHL defenders, but Letang had more to prove after the Penguins were eliminated and failed to capture their third straight Stanley Cup.
This year, the right-handed defenseman has taken on even more responsibility and is averaging more than 26 minutes a night. That's five minutes more than his closest teammate, and puts Letang fourth in the entire league behind only Drew Doughty, Seth Jones and Ryan Suter. With that kind of ice time he has responded brilliantly, tightening up his defensive play and recording 28 points through his 34 games. The next highest-scoring defenseman on the Penguins is Jamie Oleksiak with 11 points, showing just how much responsibility is heaped upon Letang's shoulders on a nightly basis.
Who are the Penguins most thankful for?
While any of the Penguins superstars could be the answer here, it's the unexpected nature of DeSmith's season that makes him so wonderfully appreciated. If someone were to have said that Matt Murray had only played 14 games by Christmas, and his save percentage was exactly .900 it would have been hard to imagine the Penguins would be anywhere near a playoff spot. But there they are in third place in the Metropolitan Division because of the exquisite play of DeSmith, who has made a legitimate case to take over as the team's full-time starter.
In 24 appearances DeSmith has posted an 11-6-4 record and leads the way with a .926 save percentage, good enough for fourth in the league among goaltenders with at least ten starts. The undrafted University of New Hampshire product trails just Jaroslav Halak, Andrei Vasilevskiy and John Gibson in that statistic, giving the Penguins more than enough to keep them in the hunt.
Interestingly, the 27-year old goaltender is an unrestricted free agent at the end of the year and could very well be playing his way into being this year's Scott Darling or Carter Hutton. DeSmith has never carried a team as the starter for very long, but might get that chance from a desperate organization if he doesn't re-sign with the Penguins before July 1st.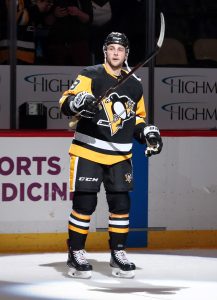 What would the Penguins be even more thankful for?
A Derick Brassard sighting.
Last year the Penguins were desperately trying to find some depth to put down the middle behind Crosby and Malkin, and ended up selling off Ian Cole and several other assets to acquire Brassard from the Ottawa Senators (with the Vegas Golden Knights helping along the way). At the time it looked like an immediate win for the Penguins, who could plug Brassard in beside players like Phil Kessel and ride towards another Stanley Cup. The fact that Brassard was under contract for another season at a now-reduced cap hit was just icing on the cake.
Not so fast, as Brassard never totally fit in with the Penguins down the stretch and disappeared in the playoffs. His ice time was reduced during the postseason run, something that has recently happened again this season. The 2006 sixth-overall pick has been nowhere to be found this year, recording just nine point in 27 games while registering poor possession numbers and being absent on the powerplay even when he is given the opportunity. If the team could somehow get a piece of the 60-point center Brassard once was they would have one of the most dangerous groups in the league. As it stands, they're struggling to find much consistency or production in the bottom six.
What should be on the Penguins' Holiday Wish List?
Another center.
It makes almost no sense that the Penguins would need to go after another center given how they loaded up over the last 12 months. The team has a group consisting of Brassard, Riley Sheahan, Derek Grant and Matt Cullen who have all have experience in the middle, and yet can't seem to get any production from the position outside of their top two options. This wasn't supposed to be an issue for them this year after adding depth, but it's proving to be once again.
GM Jim Rutherford hasn't been shy about making deals to improve his club in the past, and has already traded away Carl Hagelin and Daniel Sprong this season. He would need to balance the salaries somewhat in order to do anything, but is spending big on a rental option like Kevin Hayes or Matt Duchene even really an option? The team hasn't selected a player in the first round for four consecutive years, and traded Kasperi Kapanen (22nd overall in 2014) before he ever even played a game for them. Surely at some point they'll have to say enough is enough and keep their draft picks, but perhaps Rutherford will take another shot this time around.