As the holiday season quickly approaches, PHR will take a look at what teams are thankful for as the season heads past the one-quarter mark. There also might be a few things your team would like down the road. Let's take a look at what's gone well in the early going and what could improve as the season rolls on for the New York Rangers.  Click here for the other articles in this series. 
What are the Rangers most thankful for?
Long-term salary cap flexibility.  Coming into the season, the thought was that they're a couple of years away from really pushing towards being a contender once again.  If that is still the timeline, their books are going to be pretty clean.  Only two players are signed beyond the 2020-21 season in center Mika Zibanejad and defenseman Brady Skjei.  New York has always been viewed as a potential contender for prominent free agents and they're going to have the financial wherewithal to be aggressive on that market to help build around their promising young core.  Meanwhile, the short-term nature of most of their contracts will make it easier for them to make moves if they decide to sell once again at the trade deadline.
Who are the Rangers most thankful for?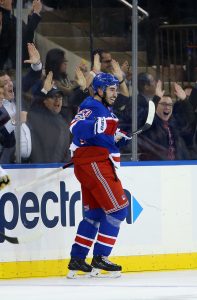 While goaltender Henrik Lundqvist could easily get the nod here given his long-term tenure with the franchise and solid play this season, let's go with Zibanejad instead.  This season, he has stepped up and locked down a top-line role while continuing to log big minutes on the penalty kill.  With 30 points in 33 games heading into play on Saturday night, he's on pace to blow past his career high of 51 set back in 2015-16.  That's legitimate top line production for $5.35MM, a salary that second liners are getting with more regularity now.
Their decision to deal Derick Brassard for Zibanejad two years ago is certainly paying dividends.  Brassard didn't light it up with Ottawa while his time in Pittsburgh has not gone particularly well either.  While he is becoming more of a secondary player, Zibanejad has become a key part of New York's core.
What would the Rangers be even more thankful for?
Getting more bang for their buck from the back end.  Marc Staal ($5.7MM) has been discussed as a possible buyout candidate the last couple of years and will likely come up in that discussion again in June.  Kevin Shattenkirk ($6.65MM), signed to give the Rangers some offensive pop on their blueline, has just one goal in 29 games, has been a healthy scratch, and is now injured.  Meanwhile, Skjei ($5.25MM) has taken a bit of a step back in the first year of his new deal.  Then there's Brendan Smith ($4.35MM) who cleared waivers last season and has been a third pairing player this year when he's been in the lineup.  That's nearly $22MM in underachieving rearguards and if those players were living up to their deals, New York's fortunes could look a lot better right now.
What should be on the Rangers' Holiday Wish List?
First and foremost, finding a resolution one way or another when it comes to pending UFA center Kevin Hayes.  He can sign a new deal in January but if they can't reach one fairly quickly, they'll have to pivot towards shopping him.  (Winger Mats Zuccarello is in a similar situation although he's eligible to sign at any time.)  Knowing what direction they're going with these players will dictate their future plans.  If they aren't signing them, they'll become sellers but if one or both re-sign, it wouldn't be shocking to see them look for a bargain addition or two.
If they sell, their wish list is likely to consist of young players that are going to be part of the core as players like Brett Howden, Filip Chytil, and Lias Andersson ascend into more prominent roles over time.  Getting prospects that will be ready soon may be preferable than draft picks that will be further away.  If they buy (an unlikely scenario given their stated commitment last year to a rebuild), it's hard to see them moving picks or prospects of consequence so a depth defender could be a focus there given the struggles of their current players.
Photo courtesy of USA Today Sports Images.