With the holiday season now here, PHR continues its look at what teams are thankful for as the season heads towards the midway mark. There also might be a few things your team would like down the road. Let's take a look at what's gone well in the early going and what could improve as the season rolls on for the San Jose Sharks.  Click here for the other articles in this series. 
What are the Sharks most thankful for?
A very talented defense corps (at least on paper).  While they haven't lived up to expectations at times, this group can be among the top units in the league.  Brent Burns and Erik Karlsson give them two of the more dynamic defenders in the NHL while Marc-Edouard Vlasic has been viewed as one of the better defensive rearguards in the past.  The top end of this back end is hard to match when they're on their game while Justin Braun is a capable minute eater to round out their top-four.  Their depth isn't as well-known but players like Radim Simek and Joakim Ryan have shown flashes of upside while Brendon Dillon is a capable third pairing player.  San Jose spends the most of any team in the league on their blueline and they have a very strong unit to show for it.
Who are the Sharks most thankful for?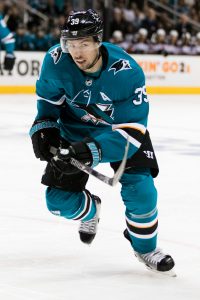 It's tempting to go with winger Timo Meier here given his emergence as a top liner but it's too hard to overlook forward Logan Couture.  He's off to a fantastic start this season and leads the team in scoring with 36 points in 38 games at the holiday break.  He has the versatility to play down the middle when injuries strike; that flexibility may come in handy with centers Joe Thornton and Joe Pavelski both being eligible for unrestricted free agency next summer.  San Jose also is certainly thankful for the eight-year, $64MM contract extension that he signed last offseason.  Couture is a key cog for them up front and has been locked in for the long haul at what's looking like a pretty good rate right now, one that is likely less than what it would take if they were trying to sign him in free agency next summer.
What would the Sharks be even more thankful for?
Consistent goaltending.  Martin Jones has had some good stretches this season but also some particularly rough ones.  Overall, he has posted a 2.86 GAA with a .896 SV% on the season – a league average GAA but considerably below the league average SV% (.908).  Backup Aaron Dell has slightly better numbers but his SV% is also well below his career average.  With the quality of their back end and the depth of their attack up front, all San Jose realistically needs is average goaltending to take a step forward and push for the top spot in the Pacific Division.  They have a little way to go to get there.
What should be on the Sharks' Holiday Wish List?
In the immediate term, they'll want to get an indication from Karlsson's camp as to what a long-term extension might cost and if he's willing to sign it.  It's unlikely he'll sign until he's eligible for an eight-year pact (which can happen after the trade deadline) but GM Doug Wilson will need to have a sense of what it's going to cost to lock his big acquisition up before proceeding with other moves (including looking at extending Pavelski).
In terms of upgrading their current roster, fourth line center has been an area of concern all season and a few different players have been in that role with varying degrees of success.  Finding a veteran to put in that role to kill penalties seems like something they will look to address.  Beyond that, their depth is pretty strong but if they stay healthy, they'll have enough cap space to make another move of note if they so desire.
Photo courtesy of USA Today Sports Images.