With the holiday season now here, PHR continues its look at what teams are thankful for as the season heads towards the midway mark. There also might be a few things your team would like down the road. Let's take a look at what's gone well in the early going and what could improve as the season rolls on for the Toronto Maple Leafs.  Click here for the other articles in this series. 
What are the Maple Leafs most thankful for?
Scoring and lots of it. Despite some injuires and a holdout, very little has slowed down an incredible offense. The team knew once it brought John Tavares on board this summer how good their offense would be and that has been the case as the team is ranked second in the league in scoring behind rival Tampa Bay, averaging 3.79 goals per game. That number has allowed the team the ability to put up the second-best record in hockey (behind rival Tampa Bay) with a 26-10-2 record. The team has already got six players with 10 goals or more, while another four players have seven goals or more. While many of those goal scorers have been their stars, the team has gotten impressive play from a number of unexpected players, including Kasperi Kapanen, Andreas Johnsson and Tyler Ennis.
Who are the Maple Leafs most thankful for?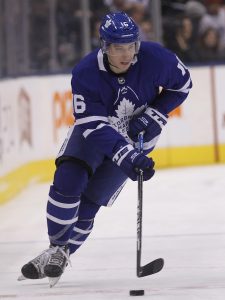 The easy answer could be John Tavares with his 26 goals or Auston Matthews, who has 35 points in just 24 games, but surprisingly, the team's points' leader this year has been Mitch Marner, who has 13 goals and 40 assists this season. Those 53 points has him ranked fifth in the NHL and a suggestion that he's headed for an even bigger season this year and if he can keep those numbers up is likely headed for a 100-point season for the team.
Marner is quickly finding himself among elite company. He is the first Maple Leaf to begin his career with 40 or more assists in three consecutive seasons, something that only five active NHL players have been able to do, including Sidney Crosby, Niklas Backstrom, Patrick Kane, Evgeni Malkin and Alex Ovechkin. No complaints in Toronto, however, as the team is trying to compete for a Stanley Cup championship this year. Marner's play is exactly what they need to hopefully win a title.
What would the Maple Leafs be even more thankful for?
The team still needs to get William Nylander back on track. The 22-year-old ended his holdout on Dec. 1 after agreeing to a six-year, $45MM deal. However, Nylander has far from been a big hit since returning to Toronto's lineup this year. The center has appeared now in 10 games for the Maple Leafs and still hasn't registered a goal, posting just two assists so far. The team has moved him down to the third line and hopes that he will figure out a way to find his offense prowess. He is coming off a 20-goal season a year ago, but that holdout seems to have stalled that progress. If the team can get him going, it will only further improve their offense.
What should be on the Maple Leafs' Holiday Wish List?
Some extensions. The team has several contracts to deal with this summer and after dealing with a long, drawn-out holdout from Nylander, Dubas and the Maple Leafs have to hope they can lock up their two top restricted free agents in Matthews and Marner. If the team can lock either of them up during the season, that could help set up the team's long-term cap situation early which could allow Dubas to find more flexibility to add talent at the trade deadline.
The team has a number of other free agents to deal with as well. The team also has restricted free agents Kapanen and Johnsson on their list of players to lock up as well as unrestricted free agent defensemen Jake Gardiner and Ron Hainsey to deal with as well. The more they can accomplish during the season, the better for a team with a tricky cap situation.
Photo courtesy of USA Today Sports Images.