Free agency is now just a few weeks away and many teams are already looking ahead to when it opens up.  There will be several prominent players set to hit the open market in late July while many teams have key restricted free agents to re-sign as well. The big focus in St. Louis is on a disgruntled sniper, but there are other issues to worry about as well.
Key Restricted Free Agents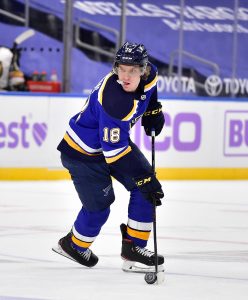 F Robert Thomas – The discussion of RFAs, which is a long one in St. Louis, should start with Thomas, the 22-year-old center who showed real promise before a brutal 2020-21. In his first two NHL seasons, Thomas recorded 19 goals and 75 points in 136 games; those numbers dropped to just three goals and 12 points in 33 games this season. That's a big step backward for the 2017 first-round pick, but it certainly doesn't mean the Blues are giving up on him. In fact, it actually might help them in contract negotiations, at least if they're willing to do a short-term deal. Thomas likely won't want to lock into a long contract after such a poor offensive showing, meaning there's even a chance that he could sign his qualifying offer and bet on himself in 2021-22. Just one year away from being arbitration-eligible, a big showing next season could set him up for a huge payday a year from now.
F Jordan Kyrou – Despite being in the same situation in terms of arbitration eligibility, Kyrou comes into this summer with very different leverage. The 23-year-old broke out this season with 14 goals and 35 points in 55 games, becoming one of the team's most reliable offensive weapons. In fact, given his production came in limited minutes—Kyrou scored all 14 of his goals at even-strength despite averaging just over 13 minutes a night—there's actually a good bet his scoring totals get a significant bump next season if moved full-time into the top-six (something that seems likely with the expected departure of Vladimir Tarasenko). His camp and the Blues will both know that, meaning a multi-year deal right now is probably the best bet for both sides, even if it does come with a healthy raise.
D Vince Dunn – The RFA list for St. Louis is long and also includes some other interesting forwards, but Dunn's name is perhaps the most intriguing of all. The 24-year-old defenseman was left unprotected in the upcoming expansion draft and may end up negotiating a contract with the Kraken instead of the Blues, but either way, he's in line for a significant raise. Signed to a one-year, $1.875MM deal in December, Dunn's 2020-21 season certainly wasn't smooth, but still ended up with him averaging more than 19 minutes a night. He scored six goals and 20 points in 43 games, continuing the early-career production that had him so highly coveted. Sure, there are defensive warts, but it's difficult to find young defensemen that can drive play as well as Dunn has through his first 267 NHL games. Even if Seattle doesn't take him, there's a chance that the Blues aren't the team he's negotiating with anyway. The team has had him on the block before, and the fact that he's arbitration-eligible makes it a tricky situation. St. Louis already has nearly $22MM tied up in their top-four defensemen, meaning they may not want to fit in whatever Dunn is awarded, should he go that route.
Other RFAs: F Ivan Barbashev, F Zach Sanford, F Jacob de La Rose, F Erik Foley, F Dakota Joshua, F Nolan Stevens, F Evan Polei, G Evan Fitzpatrick
Key Unrestricted Free Agents: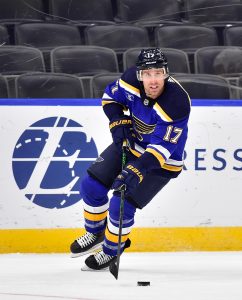 F Jaden Schwartz – Sometimes overlooked when discussing the Blues' key players over the past several years, Schwartz has been a consistent offensive producer for quite a while. That is, of course, until the 2020-21 campaign, where he scored just eight goals and 21 points in 40 games. That is a per-game rate much worse than six of the previous seven seasons, which included four 20+ goal campaigns and five in which Schwartz scored at least 55 points. The one season that lines up with that kind of production? 2018-19, when Schwartz had just 36 points in 69 games but then showed up in the playoffs, helping the team to a Stanley Cup. In short, he's coming off the worst year of his career at the most inopportune time, as he looks for a big payday in free agency. His history will certainly drive interest, but buyer beware with the 29-year-old forward, who has faced some sort of injury nearly every season of his career.
F Mike Hoffman – If you want a weapon for your powerplay, look no further than Hoffman, who had another seven goals with the man-advantage even in the shortened 2020-21 campaign. Even if he doesn't contribute a ton in the defensive zone, the term "instant offense" applies to the 31-year-old winger. The market was weak enough in last year's uncertain market that Hoffman accepted a one-year, $4MM deal to go to St. Louis, but it's hard to imagine him taking that kind of a contract this time around. He's going to score, you can be sure of it, but he doesn't exactly play the style that Blues head coach Craig Berube has become known for, and will turn 32 in November. A multi-year deal is a risk, but one that someone will likely take this summer.
Other UFAs: F Tyler Bozak, F Alex Steen (retired), F Curtis McKenzie, F Nathan Walker, F Austin Poganski, D Mitch Reinke, G Jon Gillies
Projected Cap Space
With all those free agents off the books, you'd think the Blues would have a ton of cap space to work with. Well, not exactly, at least until they move Tarasenko out. The team currently sits $17.4MM under the cap ceiling, but a good chunk of that will have to be given out to the restricted free agents that remain. The team only has eight forwards signed to one-way deals, and though young players like Klim Kostin will likely push for spots, there's lots of work to do for GM Doug Armstrong to fill out the roster.
Photos courtesy of USA Today Sports Images.  Contract information courtesy of CapFriendly.