After battling to try and return from several major injuries, Brent Seabrook has finally hung up his skates. In a statement today, the veteran defenseman has announced he will not return to professional hockey. This is essentially Seabrook's retirement, though the statement does not actually mention that word and the Chicago Blackhawks have moved him to long-term injured reserve for now. Seabrook still has three years left on his contract, which will not come off the books entirely.
In a statement, team physician Dr. Michael Terry explains exactly what happened to Seabrook:
Over a three-month period from December 2019 to February 2020, Brent underwent successful surgeries on both of his hips and his right shoulder. He has worked extremely hard to recover from those surgeries but has a long-term issue with his right hip that is preventing him from playing professional hockey. We have tried all available conservative treatments, and nothing has worked well enough for him to live life as an athlete. We support his decision to prioritize his long-term physical health.
Seabrook, Zack Smith, and Andrew Shaw were all placed on LTIR today.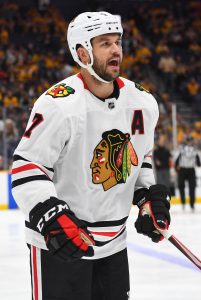 The 35-year-old Seabrook played 32 games for the Blackhawks last season, but it has been several years since he was truly himself. Both a defensive warrior and offensive catalyst during his prime, he served as the fourth musketeer alongside Jonathan Toews, Patrick Kane and Duncan Keith during the Blackhawks dynasty, winning three Stanley Cup championships in six seasons. Though he failed to capture the Conn Smythe trophy during any of those runs (the other three each have one), he was just as integral as any man on the Chicago side.
Over 1,114 career regular season games, Seabrook amassed 464 points, topping out at a 14-goal 49-point campaign in 2015-16. But he was so much more than his offensive production, serving as a leader on and off the ice for the Blackhawks and battling every second of every game. There are few players who teammates speak about with such respect, and the Chicago organization has always stood by the decision to give him his current eight-year contract.
The deal, which kicked in for the 2016-17 season (Seabrook's age-31 year), was considered a mistake by many as soon as the ink dried. A $6.875MM cap hit with a full no-movement clause made a beloved player a financial anchor, but it was a reward for the contribution he had made previously.
Now, if he doesn't retire officially, the Blackhawks will still need to dance a salary cap waltz in the coming years, using LTIR to their advantage whenever possible. Fans can stop worrying so much about his deal and start appreciating the player as the Blackhawks do. In a statement, GM Stan Bowman explains just what he means to the franchise:
Without Brent Seabrook, the Chicago Blackhawks would not have three Stanley Cups. He concludes his career as not only one of the best defensemen in franchise history, but one the greatest Chicago Blackhawks of all time. We cannot thank Brent enough for what he did for the Blackhawks organization, the city of Chicago and this fan base. He will always be a part of the Blackhawks family and we wish him well in his life after hockey.
Photo courtesy of USA Today Sports Images