On Hockey Night In Canada between the second and third periods in the Ottawa-Toronto game, Nick Kypreos of Sportsnet reported that Montreal Canadiens forward Alexander Radulov is seeking a long-term deal that could be up to as many as six years. The Canadiens don't necessarily want to go that long, but may do it if the AAV drops a bit.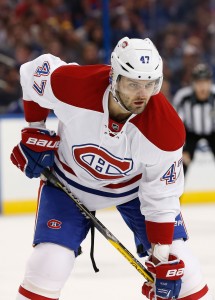 Kypreos mentioned the possibility of a short-term deal with a much higher salary, even as much as $7MM on a three-year deal. We listed Radulov at #2 on our ranking of the Top Midseason Free Agents, and it's clear that he would have multiple suitors should he hit the open market again this summer.
For what it's worth Washington Capitals head coach Barry Trotz, who maintains a friendship with Radulov from his days in Nashville, recently said that he would be "shocked" if Montreal and the Russian forward didn't come to some sort of an agreement. Trotz said that Radulov loves it in Montreal, and if he is looking for a long-term deal he may be there for a while yet.
Montreal has a few contracts coming off the books next year, including David Desharnais and Andrei Markov but also will need to re-sign Alex Galchenyuk this summer. While he's had a very up and down season, hit by injuries and inconsistency, Galchenyuk should get a very substantial upgrade to his current $2.8MM hit, especially if he gives up several free agent years.
Assigning upwards of $6MM per season to a soon-to-be 31-year old for more than five years would be a risky proposition regardless of his excellent production this year. The Canadiens already have Shea Weber on the wrong side of 30 earning a ton of money for a long time (nine more years in fact) and Jeff Petry signed until he's 34.
It does seem like there is a deal to be worked out between the two sides, after Montreal convinced Radulov to come back from the KHL, but how long and for how many millions is still very much up in the air.
Photo courtesy of USA Today Sports Images.