March 13: Weber has finally undergone surgery, and will now face a recovery period of six months. That still leaves him with time to spare to get ready for the start of next season, but does make it a little more risky should he face any setbacks. Weber's surgery was completed in Wisconsin, by Dr. Robert Anderson.
February 22: Shea Weber will not be able to help the Montreal Canadiens again this season. The high-priced defenseman will undergo surgery to repair a tendon in his left foot, and will be shut down for the remainder of 2017-18. Weber is expected to be ready for the start of the 2018-19 regular season.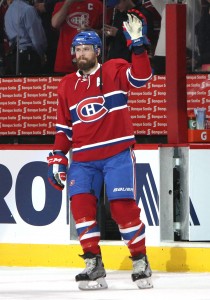 This ends a long struggle for Weber, who hasn't played since December 16th and will end the year with just 26 games. In those 26 he was off to a great start offensively, with six goals and 16 points while playing more than 25 minutes a night. His absence left a huge hole in the Canadiens lineup, one that hasn't been able to be filled by any of the other names on the scoresheet.
Unfortunately for Montreal, even making the decision to shut him down now comes with some distressing outlooks. Weber will be 33 when next season starts, and about 10 months removed from a regular season NHL game. He'll be coming off one of his first major injuries, and will still have eight years on his current contract that comes with a cap hit of nearly $7.9MM. It's tough to project anything but a decline for the perennial Norris candidate, which could cause Montreal to take another step backwards.
The Canadiens have had a terrible season, but committing to anything but a playoff run for 2018-19 seems impossible with Weber's contract and Carey Price just starting his eight-year $84MM extension. The team will have to try and find a way to get better, and though Weber's return will help it's not guaranteed to get them there by itself.
The next few days will set the tone for next season, with names like Max Pacioretty and Alex Galchenyuk still floating out their as possible trade bait. Both players are under contract for next year and could be part of the solution, though carry enough value to bring back several future assets. Whether draft picks and prospects are the target of GM Marc Bergevin is still to be seen, as his team looks like it needs more immediate help.
Photo courtesy of USA Today Sports Images