Navigating the Salary Cap is probably one of the more important tasks for any general manager to have. Teams that can avert total cap chaos by walking the tightrope of inking players to deals that match their value (or compensate for future value without breaking the bank) remain successful. Those that don't see struggles and front office changes.
PHR will look at every NHL team and give a thorough look at their cap situation heading into the 2018-19 season. This will focus more on those players who are integral parts of the roster versus those who may find themselves shuttling between the AHL and NHL. All cap figures are courtesy of CapFriendly.
Current Cap Hit: $75,521,166 (under the $79.5MM Upper Limit)
Entry-Level Contracts
F Jesse Puljujarvi (one year, $925K)
F Kailer Yamamoto (three years, $894K)
D Ethan Bear (two years, $798K)
Potential Bonuses
Yamamoto: $230K
Puljujarvi: $2.5MM
Bear: $70K
Total: $2.8MM
One major need is for the Oilers to get some help from their young players. Perhaps the most intruiging prospect is Puljujarvi, the team's fourth-overall pick in 2016. After struggling in his rookie season, Puljujarvi showed some promise last year, scoring 12 goals in 65 games, but the 20-year-old still hasn't proved that he can be a top-six winger yet. Regardless, the Oilers have resisted trading the prospect as they have received quite a bit of attention from other teams. Yamamoto also struggled in a early-season tryout last season as he played in nine games (tallying just three assists) before being sent back to juniors. However, after scoring 21 goals in 40 games with the WHL's Spokane Chiefs, the speedy Yamamoto might be ready to claim a spot on Edmonton's roster this season.
One Year Remaining, Non-Entry-Level
G Cam Talbot ($4.17MM, UFA)
G Mikko Koskinen ($2.5MM, UFA)
F Tobias Rieder ($2MM, RFA)
G Al Montoya ($1.03MM, UFA)
D Jakub Jerabek ($1MM, UFA)
F Ty Rattie ($800K, RFA)
D Kevin Gravel ($700K, UFA)
F Jujhar Khaira ($675K, RFA)
F Pontus Aberg ($650K, RFA)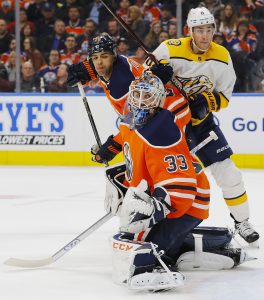 The team has many decisions to make with their goaltending next season. All three goaltenders are on one-year deals and will have to prove their value to the franchise for a new contract. Talbot will be the chief goaltender who must prove that last year's disappointing season was a fluke as the 21-year-old went from a 2.39 GAA in 2016-17 to a dismal 3.02 GAA last year. His .919 save percentage in the 2016-17 season dropped to a .908. So which is he? If Talbot can rebound and show that he's closer to the 2016-17 season, the team will likely lock him up for several more years, but if not the team may look elsewhere for goaltending help.
Another factor could be Koskinen's presence. Brought over from the KHL, the 30-year-old veteran has been one of the top goalies in the KHL for the past six seasons, but whether he can make the conversion to the NHL is a whole new question. However, a good showing could change the way Edmonton looks at Talbot and his contract in one year. If neither is capable of locking down the No. 1 job, the team should find quite a few interesting names in the free agent market next season.
The team does have hopes that they can properly develop the speedy Rieder, who signed a one-year "prove it" deal, which could turn into a two-year deal considering that he'll still be a restricted free agent next year. The 25-year-old has scored 12 or more goals for four seasons, but has never been able to take his game to another level and now is on his third organization in one year, which suggests that two organizations have given up on him. However, with his speed, he could be the perfect complement to the team's top speed line.
Two Years Remaining
F Ryan Strome ($3.1MM, RFA)
F Zack Kassian ($1.95MM, UFA)
D Matt Benning ($1.9MM, RFA)
F Drake Caggiula ($1.5MM, RFA)
F Kyle Brodziak ($1.15MM, UFA)
D Keegan Lowe ($675K, UFA)
Strome was the key piece in the Jordan Eberle deal last offseason, but while he posted moderate numbers, he hasn't yet proven that he will be a significant part of the future of the Oilers. The forward's production continues to decline. The 25-year-old posted 13 goals, the same he did a year ago, but he also played a full season this year, as opposed to just 69 games in 2016-17. However, no one is quite sure what his role will be going forward although the team has two years to figure it out. Is he a top-six winger, who can put up a large number of goals or a bottom-six center? Caggiula has a similar issue. Signed as an undrafted free agent out of the University of North Dakota, Caggiula has improved, posting 13 goals himself last year, but hasn't been able to provide the breakout season the Oilers are looking for out of their youth. The 24-year-old struggled with consistency throughout the year as he had several significant streaks where he didn't even register a point and disappeared on the ice, but again, the team has two more years to figure out what it has in him.
The team did add Brodziak to its roster to provide veteran depth to their roster. The 34-year-old center had a impressive year last year, posting 10 goals and 33 points, his best season since the 2011-12 season. In just his second season, Benning received a significant uptick in minutes played after several teammates went down with injuries. The 24-year-old blueliner, known for his big checks, played well, but is not likely ready for a top-four role as yet. However, with injuries already mounting, that may become inevitable.
Three Years Remaining
F Ryan Nugent-Hopkins ($6MM, UFA)
D Andrej Sekera ($5.5MM, UFA)
D Adam Larsson ($4.17MM, UFA)
D Kris Russell ($4MM, UFA)
While many things in 2017-18 didn't go well, the team saw improved play from Nugent-Hopkins, a phenomenal defensive player, who hasn't been able to step up offensively much over the last few years. However, the center eventually moved over to the wing on the top line and seemed to find his scoring touch as he tallied 24 goals, matching a career-high. With so much money invested in three centers, the team has made it clear they want to see Nugent-Hopkins play on the wing in hopes of getting some value out of his contract. While at one point, Nugent-Hopkins was a significant trade candidate, it looks like the team intends to hold onto him for the time being.
Sekera might be the deal the team will suffer through for the next three years. A top defenseman a few years ago, he suffered a significant injury at the end of the 2016-17 and returned to play half a season with Edmonton last year, but was never the same. Then almost two weeks ago, the Oilers announced that Sekera will be out indefinitely after he underwent surgery to repair a torn ACL during a training session. With most, if not all of the 2018-19 season ended, the 32-year-old may have a hard time coming back and establishing himself as a dominant No. 1 defenseman or even a top-four defenseman that he has been in the past.
Larsson and Russell have proved to be solid, but hardly spectacular defensemen for the team. Both defensive-minded defensemen, they both didn't help a struggling blueline enough last season. The team had high expectation for Larsson to develop into a top-four defenseman when they traded Taylor Hall for him a couple of years ago, but he has failed to do that so far.
Four Or More Years Remaining
F Connor McDavid ($12.5MM through 2025-26)
F Leon Draisaitl ($8.5MM through 2024-25)
F Milan Lucic ($6MM through 2022-23)
D Oscar Klefbom ($4.17MM through 2022-23)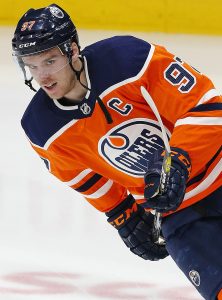 McDavid continues to improve and without a doubt is worth every penny the team will be paying him starting this season. The 21-year-old increased his goal output from 30 goals to 41 as he managed to win the Art Ross Trophy for a second year in a row. He reached 100 points for the second straight year as he tallied 108 points last year and has provided the team with a star player who is perfectly designed for the fast-paced new NHL. Draisaitl, on the other hand, didn't take that next step after signing an eight-year, $68MM deal last offseason. The 22-year-old was banged up quite a bit in the beginning of the year as he dealt with an eye injury as well as a concussion, but still quietly had a solid season in which he posted 25 goals and 70 points. Hopefully, Draisaitl can take his game up a notch this year to help provide the team with two high-end centers.
Lucic's name appeared in trade rumors throughout the offseason, but with four years remaining on his contract, the team really needs to hope that Lucic can bounce back after a miserable season with the Oilers. The 30-year-old had been a 20-30 goal scorer for most of his career, but the physical winger managed just 10 goals last year in a full 82 games and the team will need him to rebound if the team wants a chance to reach the playoffs next season.
Klefbom also had a tough season, but much of that could be attributed to the fact that he suffered a severe shoulder injury in the Western Conference playoffs in the 2016-17 season and he wasn't the same. He has since corrected the problem this offseason as he underwent surgery to repair the damage and is expected to be fully healthy for training camp. Klefbom came off a 12-goal, 38-point season in 2016-17, but should be able to take his game up a notch, especially after posting a five-goal, 21-point season last year.
Buyouts
F Benoit Pouliot ($1.33MM through 2020-21)
D Eric Gryba ($300K through 2019-20)
Retained Salary Transactions
None
Still To Sign
Best Value: McDavid
Worst Value: Sekera
(Excluding entry-level contracts)
Looking Ahead
The Oilers are in a tough position if the team cannot develop their youth. Too many of their players haven't developed enough and the team can only hope that youngsters like Puljujarvi, Strome and Caggulia can take that next step and at least develop into 20-goal scorers to provide the team with deeper lines and not force McDavid and Draisaitl to do all the work. However, if they fail to develop that talent, then the team will have to find creative ways to lighten their cap load as those bad contracts have at least three or four years left on them, which will handicap a team that is running out of cap space.
Photo courtesy of USA Today Sports Images