Navigating the Salary Cap is probably one of the more important tasks for any general manager to have. Teams that can avert total cap chaos by walking the tightrope of inking players to deals that match their value (or compensate for future value without breaking the bank) remain successful. Those that don't see struggles and front office changes.
PHR will look at every NHL team and give a thorough look at their cap situation heading into the 2017-18 season. This will focus more on those players who are integral parts of the roster versus those who may find themselves shuttling between the AHL and NHL. All cap figures are courtesy of CapFriendly.
Current Cap Hit: $65,647,000 (under the $75MM Upper Limit)
Entry-Level Contracts
D Matt Benning (One year remaining, $925K)
F Drake Caggiula (One year remaining, $925K)
F Connor McDavid (One year remaining, $925K)
F Jesse Puljujarvi (Two years remaining, $925K)
F Anton Slepyshev (One year remaining, $925K)
F Kailer Yamamoto (Three years remaining, $925K)
D Darnell Nurse (One year remaining, $863K)
Potential Bonuses
McDavid: $2.85MM
Puljujarvi: $2.5MM
Nurse: $850K
Slepyshev: $600K
Caggiula: $425K
Benning: $300K
Yamamoto: $230K
Total: $7.755MM
Believe it or not, McDavid is still on the list as the Art Ross Trophy winner, Hart Memorial Trophy winner, and Ted Lindsay Award winner is on the last year of his entry-level deal. McDavid will also be listed later in the story under four year and more as McDavid signed his eight year, $100MM extension this summer and will be locked up long term regardless. More on him later …
The Oilers have high expectations for both Benning and Nurse to take that next step. With injuries mounting, both should be vaulted into bigger roles than they were last year. The 23-year-old Benning played in 62 games last year and played solidly while filling in for injured players. The 22-year-old Nurse also had a solid showing in 44 games this year. Both may be asked to jump onto top-four pairings on defense throughout the year.
Slepyshev, who suffered an ankle injury in the offseason looks close to being ready. He had 10 points in 41 games a year ago, but also scored three goals in the playoffs for Edmonton last year and many feel the 23-year-old is ready to take that next step. Caggiula, a big college player from the University of North Dakota, had seven goals and 18 points in 60 games a year ago in his first year with Edmonton and is also thought to be a player ready to make a jump.
Both Yamamoto and Puljujarvi (Edmonton's 2017 and 2016 first-round picks, respectively) went head-to-head and battled it out for a final roster spot this training camp with Yamamoto getting the edge and Puljujarvi getting sent to Bakersfield, but don't be surprised if Puljujarvi is back up at some point during the season.
One Year Remaining, Non-Entry-Level
D Mark Fayne ($2.6MM, UFA – team saved $1.025MM in cap relief by sending him to AHL)
F Ryan Strome ($2.5MM, RFA)
F Mark Letestu ($1.8MM, UFA)
F Patrick Maroon ($1.5MM, UFA)
F Jussi Jokinen ($1.1MM, UFA)
G Laurent Brossoit ($750K, RFA)
F Iiro Pakarinen ($725K, RFA)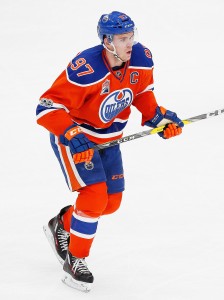 Perhaps the most interesting player the team must focus on will be Maroon, who had a breakout year playing next to McDavid. The 29-year-old wing scored 27 goals and has proven to be one guy who seems to play well next to McDavid. He is a presence in front of the net and a physical force for the team.
Letestu, is another player the team will have to consider. Likely to be the team's fourth-line center, Letestu put up 16 goals last year, although that was a career high and he's already 32 years old. Jokinen, who signed a one-year deal this offseason, put up 11 goals last year in Florida, but at 34 years old is likely not a priority to the team.
As for restricted free agents, the team will take a long look at Strome, who the team acquired in the Jordan Eberle deal. The 24-year-old center has had an inconsistent career with the New York Islanders, but put up 13 goals and 30 points last year. The Oilers hope he can keep improving on those numbers. Brossoit will get his first chance to be Talbot's backup. The 24-year-old looked promising in eight appearances last year.
Two Years Remaining
G Cam Talbot ($4.17MM, UFA)
D Eric Gryba ($900K, UFA)
F Jujhar Khaira ($675K, RFA)
Obviously, the key is to lock up Talbot, who has proven to be a solid goaltender. The team has been thrilled with his performance over the last two years since he's become a full-time starter. He played in an absurd 73 games last year and finished with a 2.39 GAA and a .919 save percentage. Assuming, his play doesn't drop off, he could receive a big payday, even at 32. Gryba, a bottom-line veteran defenseman, and Khaira, a 23-year-old draft pick from 2012, just fill out the roster.
Three Years Remaining
F Zack Kassian ($1.95MM, UFA)
The fourth-line bruiser scored seven goals and added 17 assists, 201 hits and 101 penalty minutes in a full season last year and should continue aiding the team. The 26-year-old adds a physical presence at 6-foot-3, 209 pounds, which the team desperately needs and is critical to the team's bottom line.
Four Or More Years Remaining
F Connor McDavid ($12.5MM through 2025-26)*
F Leon Draisaitl ($8.5MM through 2024-25)
F Milan Lucic ($6MM through 2022-23)
F Ryan Nugent-Hopkins ($6MM through 2020-21)
D Andrej Sekera ($5.5MM through 2020-21)
D Oscar Klefbom ($4.17MM through 2022-23)
D Adam Larsson ($4.17MM through 2020-21)
D Kris Russell ($4MM through 2020-21)
* McDavid's extension doesn't kick in until 2018-19.
As said earlier, McDavid signed a eight-year extension this summer, but that $12.5MM AAV won't kick in until next year and the team will have to deal with that next offseason. However, when you look at this Edmonton team, they have a lot of young talent that is locked up long-term, meaning that Edmonton should be a really good team for many years. Having both McDavid, 20, and Draisaitl, 21, make for two franchise changing players and they have them together for another eight years. McDavid and Draisaitl combined last year for 59 goals and 118 assists and both should only get better.
Lucic is a solid contributor, who put up 23 goals and 50 points and likely to play next to Draisaitl on the team's second line. Consistency is his game as he has put up solid numbers over the past six or seven years. The 29-year-old's productivity is essential after the two centers. Nugent-Hopkins, is a different matter. The former first-overall pick in 2014, Nugent Hopkins inked a seven-year, $42MM deal in 2013 when he was just starting to scratch the surface of his career. Instead his offense had stagnated as he's never scored more than 56 points in a season. Still just 24 years old, his defense is excellent, but for $6MM a year, that's a lot of money for little offense.
Despite a knee injury that will keep him out for a few months, Sekera is a key component to the team's blueline efforts. He will be badly missed, but he is expected to anchor that defense for many years. The team has its top-four defense locked up long term as well. Klefbom played a complete 82-game season last year, putting up solid numbers (12 goals) and solidifying himself as one of the team's top defensemen. Both Larsson and Russell have settled in as the defense's second line and should be there for some time as well. Larsson, the former fourth-overall pick they acquired in the Taylor Hall deal, is a key defensive defenseman just like the 30-year-old veteran Russell.
Buyouts
F Lauri Korpikoski ($1MM through 2017-18)
F Benoit Pouliot ($1.33MM through 2020-21)
Retained Salary Transactions
None
Still To Sign
None
Best Value: McDavid
Worst Value: Nugent-Hopkins
Looking Ahead
As said earlier, this team has been very well constructed as the Oilers have made it clear they are building around their youth as they have their top two superstars locked up for eight years together (nine years for McDavid). The defense is locked in for another four years as well and the Oilers have a bright future ahead of them. The team will have to keep an eye on the salary cap once McDavid's contract kicks in, hence why the team traded Eberle this offseason. However, to go with their young stars, the team has a large amount of young forwards who could also step up and carry this team even further. Their depth looks ready to compete at a high level for a long time.
Photo courtesy of USA Today Sports Images.