With the NHL season just underway, we continue our look at what each team has done this summer and what to watch for in the year to come.  Today, we focus on the Colorado Avalanche.
Last Season: 22-56-4 record (48 points), seventh in Central Division (missed playoffs)
Remaining Cap Space: $5.8MM per CapFriendly
Key Additions: F Colin Wilson (trade, Nashville), F Alex Kerfoot (free agency, New Jersey), F Nail Yakupov (free agency, St. Louis), D Patrik Nemeth (waivers, Dallas), G Jonathan Bernier (free agency, Anaheim)
Key Departures: D Francois Beauchemin (buyout), F Mikhail Grigorenko (free agency, KHL), D Fedor Tyutin (free agency, unsigned), G Calvin Pickard (expansion, Vegas)
[Related: Avalanche Depth Chart From Roster Resource]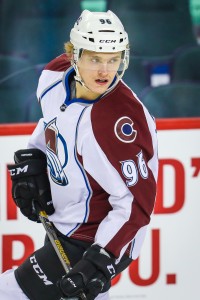 Players To Watch: F Mikko Rantanen & F Tyson Jost – Though everything that could have gone wrong, did go wrong in Colorado last year, there is still reason for optimism in the mountains. That optimism starts with the intriguing young core the team will ice at forward this year, including Rantanen and Jost. Both 10th-overall picks, Rantanen established himself as a full-time NHL player last year, recording 20 goals and 38 points in 75 games. While that seems underwhelming for a player many expect to be a top-line winger for years to come, it's important to note that it ranked third on the team only behind established stars Nathan MacKinnon and Matt Duchene.
Solidly built and armed with an incredibly accurate snapshot, Rantanen will score plenty of goals in this league. His ability to drift away from traffic and find a spot to unleash on net is uncanny, and will only develop with time and more successful linemates. At just 20, he's only starting to fill out a 6'4″ frame that could carry around 220-lbs when it's all said and done. That size, when added to his smooth skating and solid edgework shows a player who can contribute in several different elements of the game. While he struggled at times last year with consistency like many of the other Colorado Avalanche, a new season should bring better results.
Jost on the other hand jumped right from the NCAA tournament to the NHL last season, suiting up for just six games at the end of the year. Though he register his first NHL goal, it was the only point he put up through his short tenure. Still, Jost profiles as a prototypical two-way center that can score in bunches. He dominated his final season in the BCHL before heading to North Dakota where he continued to show why the Avalanche valued him so highly in the 2016 draft.
Not as big as some of the other number-1 centers in the league, Jost will likely settle into a second-line role with the Avalanche in the coming years. For now he's been practicing with the fourth line, but there is clearly talent beyond that spot in the lineup. His development will be key to the success of the franchise, especially if they end up trading away some of their depth down the middle.
Key Storyline: That brings us to Duchene, who has been one of the biggest stories in the league for months now. While it now looks like he'll begin the season with Colorado, there remains much speculation that a trade will eventually happen. Teams like Columbus, Carolina, Ottawa, Pittsburgh, Nashville and New York have all been linked to Duchene at one point or another, though it's unclear who would be willing to step up and pay the steep price GM Joe Sakic is still after.
The Avalanche are probably doing the right thing by waiting for their price to be met, but it must feel like torture to Duchene and agent JP Barry. The latter has been clear about his client's desire for a fresh start, and Duchene has been hounded by questions and speculation since well before last year's trade deadline. Perhaps showing that he can bounce back from last year's disappointing 41-point season will catch the eye of a new team.
Unfortunately, Duchene will have a lot of responsibility heaped onto him to start the year. He's been practicing between Nail Yakupov and Alex Kerfoot, who don't inspire much confidence as they look to respectively rebuild and start their NHL careers. While both have high-end skill, Duchene will be required to drive play for the most part and play responsibly in his own end. While the speedster can do both of these things reasonably well, it's not exactly his prime skill set.
The Avalanche are rebuilding, that much is clear. But this season is about more than just collecting assets and stockpiling draft picks. The team, coach and GM all need to prove that last year is behind them and that they're no longer the laughing stock of the league. They're just four years removed from an 112 point season with many of the same faces driving the team—that year Duchene had 70 points, while captain Gabriel Landeskog had 65. The playoffs are a long shot, but improvement is necessary.
Photo courtesy of USA Today Sports Images