While the expansion draft is set to headline a busy NHL offseason, there are still several other storylines for each team in the months ahead. Here is a closer look at what lies ahead for the New Jersey Devils.
Last offseason, Devils GM Ray Shero took a big swing with the addition of Taylor Hall up front in the hopes that he would bolster their offense.  That didn't exactly happen as the team managed one fewer goal scored than they did in 2015-16.  Their blueline struggled with the loss of Adam Larsson and as a result, they were near the top of the league in goals allowed.  Not surprisingly, those two issues resulted in a tie for 27th place overall meaning that it's time to go back to the drawing board for Shero who has a few intriguing decisions to make this summer.
The Number One Pick – Keep Or Trade?
While there weren't many good things happening on the ice in New Jersey, they did get some good news off it with their victory in the NHL Draft Lottery.  Unfortunately for them, this draft class lacks the top flight star that we've seen the last couple of years while there isn't even a consensus top selection.
Accordingly, many wonder if this might be an appropriate time to deal the top pick away.  There isn't a whole lot of precedent for doing so but with young, cheap, and controllable talent being much more valuable now in the salary cap era, the Devils could potentially land a core player that could make an impact right away.
If they decide to keep the pick, it's likely between a pair of centers for the top spot in Nolan Patrick (Brandon, WHL) and Nico Hischier (Halifax, QMJHL).  Patrick is more of the all-around player but Hischier could certainly be enticing to a team that still needs to add some offensive punch to their lineup.
The Kovalchuk Situation
Although Ilya Kovalchuk retired from NHL action in 2013 and the team is eating a small cap hit of $250K per season through 2024-25 in salary cap recapture, the Devils are poised to facilitate a move that will allow them to get something for a player that isn't playing for them.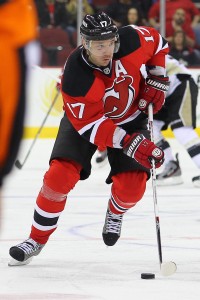 Kovalchuk has made it known that he would like to take himself off the Voluntary Retired List and return to NHL action next season.  He can do so and enter free agency if the 30 other teams approve.  That's not going to happen which opens up a sign-and-trade scenario.
While the 34 year doesn't appear to have much interest in returning to New Jersey, the team still has some leverage in that they have to get good enough value in a deal to entice them to facilitate Kovalchuk's return, especially given the weak free agent market up front in terms of impact forwards.  It's not likely that they'll command a premium return but Shero should be able to at least add an asset or two which, for someone that 'retired' a few years ago, is still not bad.  He could opt to try to add draft picks but he could also wind up with a player in return, especially if the acquiring team needs to shed some salary to fit Kovalchuk onto their payroll.
Add Defensive Help
The Devils didn't have the deepest of defense corps before they moved Larsson last offseason and they certainly missed his presence on the back end in 2016-17.  They're missing a true shutdown defender that can anchor a penalty kill and be counted on in late game situations and while John Moore scored 12 goals this season, he's far from the key offensive threat that any team with eyes on a playoff push needs.
Accordingly, expect the blueline to be something New Jersey will focus on this offseason.  If they do dangle the number one pick, they could potentially add a core defender with several years of team control which.  It's unlikely that they'll do the opposite of last year and trade a key forward for a defender but they could conceivably look to the trade route to upgrade their bottom half.
It also wouldn't be surprising to see Shero take a run at the biggest fish on the back end in free agency in Kevin Shattenkirk.  The Devils have just $51.6MM committed in payroll for next season and have the cap space to make a big splash.  There are several other players who could step in and play a top four role for them so there's a good chance that they will be look to be active on the open market in July.
Photo courtesy of USA Today Sports Images.