At the Chicago Blackhawks convention, winger Patrick Kane was noted for saying that the Pittsburgh Penguins were the measuring stick for championship teams in the NHL. The sentiment is a fair one, after the Pens were the first team in the Cap Era to repeat and the first to go back-to-back since the '96-97 and '97-98 Detroit Red Wings.
Back in April, Sportsnet did a fascinating piece on how every Stanley Cup playoff participant was built and a quick glance at each team realizes that a healthy mix of good drafting, smart trades, and keen signings from the free agent pool lead to stability. Is there a metric of perfection? Hardly. The Blackhawks are saddled with huge contracts to players with a lot of miles on them. They developed well, they drafted well under Dale Tallon (Bowman has been a mixed bag), and Bowman made some shrewd trades to keep the band together. The official metric (at that time) was a mix of their roster being 40% drafted; 20% acquired through trade and another 40% picked up as free agents. Two months later, the Hawks violently shook up their roster after a stunning four-game sweep to the Nashville Predators.
So how about the Pittsburgh Penguins? The back-to-back champs clocked in at 44% drafted, 41% traded, and just 15% signed. Remember, it wasn't too long ago that many analysts and pundits were wondering if Sidney Crosby should be dealt to rebuild, whereas ESPN's Matthew Coller eerily wrote this:
Barring a miracle turnaround under coach Mike Sullivan, it appears the Pittsburgh Penguins' run as an elite team is over, whether they make the playoffs this season or not. Recently fired coach Mike Johnston might be at fault for some of their struggles, but the Penguins' big picture is clear: They have fading superstars, a broken-down prospect system and bandages covering up giant gashes in the team's depth.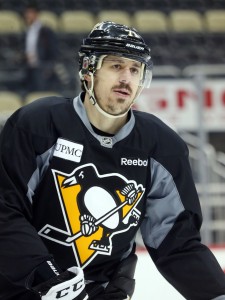 Obviously, the miracle turnaround happened and the Pens have two more Stanley Cups to show for it. This isn't to slag Coller at all—in fact, if you can remember back to December 2015 the Penguins were playing listless hockey and appeared to truly need a reshaping. But sometimes different voices—and players—can make all the difference.
So what does it take for a franchise to win a Cup? Here are a few thoughts:
Sometimes, It Takes A Fresh Pair Of Eyes
The Penguins did just that. Ray Shero was the general manager from 2006-2014, and was fired following a bitter first round exit. Head coach Dan Bylsma followed soon after, once Jim Rutherford was hired. Rutherford's arrival was hardly celebrated at the time, and the Penguins were bounced in five games just a year later. Rutherford then turned around and acquired Phil Kessel, booted Johnston for Sullivan in December of 2015, and snagged Trevor Daley from Chicago in a steal (Rob Scuderi, who was flipped later to Los Angeles).
Rutherford didn't build the roster. He didn't have a history with the franchise. Instead, he came in with a different perspective than those who were around to construct it. The one metric that advanced or conventional statistics don't capture are the human elements that lead to winning. They're not measurable. Statistics are important as is robust scouting. But a fresh perspective, where biases are not entrenched, go a long way. Sometimes, a front office reboot is just what the doctor ordered. Staying the course for too long can bring down a franchise. The Detroit Red Wings certainly seem to be an example of that, currently in cap hell, with contracts bloated in money, years, and no-trade clauses. Many think that Ken Holland, who's had a dismal eight years since the Wings' last Finals appearance, has simply been there too long to make any sizable changes. Loyalty, after all, is a powerful agent.
This isn't to say that full-scale change is always the way to go. Patience is a virtue. But sometimes, a different look at things can go a long way.
Draft Well
This is the no-brainer. You can't whiff on your top picks. The Penguins built a foundation when the ping pong ball bounced their way three times, allowing them to draft Marc-Andre Fleury, Evgeni Malkin, and Crosby in three straight drafts. From there, it's finding the right complimentary pieces and then developing that talent through the minors. Of those 16 playoff participants examined in the Sportsnet piece, only one team didn't have a roster that was composed of over 33% drafted players (Boston Bruins – 25%). That's a third of the roster contributing to a playoff appearance—an obvious necessity to prolonged success.
Trading Is Risk/Reward Based On Who's Pulling The Trigger
Trades certainly put the Penguins over the top but they don't always work out. Just ask George McPhee and David Poile about that Filip Forsberg deal. But it goes without saying that teams can't be afraid to make a deal here and there. Poile is proof positive of that. He swung the trade that netted P.K. Subban, and has swindled other teams to acquire both core and supplemental talent. Trading can't be relied upon solely to build a winner, but adding the right pieces at opportune times can be the difference between a deep playoff run and just missing the playoffs.
Free agency, especially in the salary cap era, has become akin to navigating a field full of land mines. Long terms and big dollars are spent on players and only seasons later, buyouts used to purge the mistake. There are certainly cases of it working well, but it seems like it's best to tread lightly during the free agent signing period.
There will never be a perfect science to building a team. Sometimes it's just a little luck that propels a team on the bubble to a Stanley Cup Final appearance or even just qualifying for the playoffs. Regardless, it's interesting to note that as the Penguins head into a season trying to capture a third consecutive Cup, smart drafting, trading and a fresh perspective can go a long way in winning.
Photo courtesy of USA Today Sports Images