Despite being after midnight on the east coast, the Detroit Red Wings and Montreal Canadiens are still working. The Wings have sent Steve Ott—who was scratched from tonight's game in a telling move—to the Montreal Canadiens for sixth-round pick in 2018.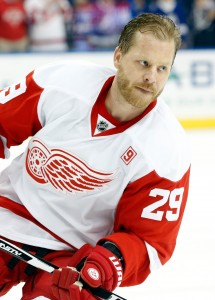 While the Ottawa Senators and Toronto Maple Leafs both added a little more toughness yesterday with their acquisitions of Alex Burrows and Brian Boyle respectively, the Montreal Canadiens have done the same late tonight. Ott is by no means the equal to either of those players on offense, but may be as big of a pest as either. He has made a career out of getting under other team's skin and providing a physical presence in the corners.
The Canadiens have now acquired a handful of players and seem poised to make an even bigger deal at some point before the deadline. After winning again tonight in overtime against the Columbus Blue Jackets, Montreal has extended their lead in the Atlantic Division to six points. While they are no guarantee for the playoffs just yet, they are a good bet.
Ott will help them in that department, as he lends his experience and leadership to any room. His 55 games of playoff experience will be welcomed into a room that will be relying on certain players without much. The Canadiens top line of Max Pacioretty, Alex Galchenyuk and Alexander Radulov (if put together again) has a total of 72 postseason games combined.
For Detroit, moving another expiring veteran for a draft choice is a positive, regardless of the round. They've now moved out relatively small pieces and gained some valuable selections to start a rebuild with, and still have some much bigger named players yet to move if they choose.
Photo courtesy of USA Today Sports Images