For Buffalo Sabres fans this season must be hell. They have seen their team rocked by injuries all season long, taking what is a talented squad and sapping them of their playoff potential. The consecutive losses over the weekend to bottom-dwelling Arizona and Colorado has all but assured that they are sellers at this week's trade deadline instead of buyers.
The Sabres weren't sellers last summer, when they went out and gave a big contract to Kyle Okposo and traded for Dmitry Kulikov to help their back end. They were a young team with a ton of potential, and decided to augment it with talented veterans. While Okposo was the team's all-star representative, his scoring touch hasn't been enough to help them out of the bottom of the Eastern conference.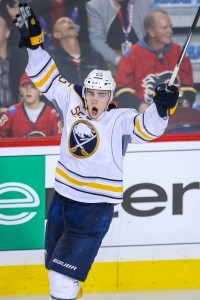 Meanwhile, they have to watch the Edmonton Oilers and (even more painfully) Toronto Maple Leafs experience huge gains from teenagers, turning into legitimate playoff contenders overnight. The teams that they've battled with for first overall picks are now surging to the top of the standings. Edmonton won a lottery that Buffalo had worked so hard for to get Connor McDavid, and Toronto tanked for Auston Matthews while the Sabres tried to compete a year ago.
But it's not just the past two years that should have been building blocks for the Sabres. Like the Oilers, they've long had picks to help build a system—that just haven't seemed to come together as a team. Since 2011 the Sabres have had eight picks in the top-16 of the draft, including four top-eights (Alex Nylander, Jack Eichel, Sam Reinhart and Rasmus Ristolainen).
If you look at their track record, it's actually quite good in these spots with all of them looking like solid if not excellent NHL players. So why hasn't it come together for them yet? Is it just the injuries? Perhaps, but even the players who have been relatively healthy haven't performed up to standards.
Ryan O'Reilly, he of the highest cap-hit on the team, has just 38 points in 52 games and hasn't yet turned into the dominating elite centerman the Sabres had hoped for. Okposo has 39 and looks like he'll end with his lowest total since the last lockout. Matt Moulson and Brian Gionta have shown their age and turned in a bottom-six production, and Marcus Foligno might not hit double-digits in goals this season.
So when will they experience their renaissance, like the Oilers and Leafs? Will it happen next season, when Eichel is healthy enough to lead their team all season, or are they doomed to sit in mediocrity while they pay off the long-term deals they've given to some of these veteran players. Fans should be wary of asking for any other high-priced additions this summer, and instead just rely on the internal development of all these highly drafted players. It looks like the Sabres will add another top pick to the stable this offseason, as long as they don't do anything too crazy at the deadline.
Photo courtesy of USA Today Sports Images