Yesterday, former NHLer Nick Shore signed in Switzerland. Today, the Swiss league adds another former NHL-er: Frederik Gauthier. Per a team announcement, Gauthier has signed a one-year deal with HC Ajoie.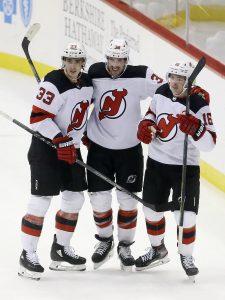 Gauthier, 27, was the Toronto Maple Leafs' first-round pick at the 2013 NHL draft, getting selected 21st overall. His choice came off the back of a successful debut campaign for the Rimouski Oceanic, a season where he scored 60 points in 62 games. Gauthier's big six-foot-five frame intrigued scouts, and they believed that his polished defensive game would provide a solid base for the Maple Leafs development staff to work off of and hope to develop a two-way force.
Unfortunately for Gauthier, though, his game in one half of the ice never really took off. In all three years he spent in the QMJHL, Gauthier's numbers remained remarkably consistent, which isn't ideal for a first-rounder in junior hockey. His .97 points-per-game as a QMJHL rookie became a .96 mark as a sophomore, and .86 mark in his shortened final junior season. Whereas some highly-drafted prospects take off as they get older and more experienced in junior hockey, Gauthier's offense stagnated. This fact was made especially worrying due to the fact that Gauthier was bigger and stronger than most junior players, and was still unable to use that size to overpower younger QMJHL talent as other bigger prospects have typically been able to do.
Along with his defensive game, Gauthier's lack of progression on offense translated to the professional game. Gauthier was a fast riser, getting into seven NHL games in his first pro season, but he only got time as an NHL regular in 2018-19, after three seasons playing mostly with the Toronto Marlies. Gauthier's AHL production always left much to be desired. In his final extended AHL stint in Toronto, Gauthier had just 18 points in 57 games. But he still got minutes with the Marlies and NHL opportunities thanks to his defensive game.
As the hopes of a long-awaited offensive breakout from Gauthier have faded, his true professional role has become clearer, and the honesty about what Gauthier is at this point in his career has led to NHL opportunities since his exit from the Maple Leafs organization.
Seeking safe, defense-first depth at the start of last season, the New Jersey Devils signed Gauthier to a two-way contract after a strong training camp playing on a PTO. He did exactly what was asked of him in the Devils organization. He had 32 points in 51 AHL games and also served as a crucial defensive forward. He was head coach Kevin Dineen's most trusted penalty-killing forward, and his willingness to shoulder much of the team's defensive burden up front freed top prospects such as Alexander Holtz to focus on the offensive side of the game. Gauthier also got eight NHL games in last season and averaged a whopping 2:49 time on ice per game on their penalty kill in that stretch, showcasing himself as a forward with a well-defined role.
While some might be unable to look past his status as an underwhelming first-round choice, what Gauthier provided to the Devils organization last season was legitimately valuable, especially at a league-minimum, two-way cost. In Switzerland, he'll likely be a valuable contributor to Ajoie as well.
Ajoie are making a push this offseason after a nightmarish 2021-22 campaign that saw them win just nine games. Earlier this offseason they signed another former NHLer, T.J. Brennan, to bolster their blueline. Ajoie let in 224 goals last season, the most in the Swiss league and nearly 70 more than the third-worst club. Gauthier is a defensive specialist and should be able to help them in that area.
The Swiss league is a strong league with quite a few former NHLers. If Gauthier can continue his strong defensive play, make strides in the offensive side of the ice, and help Ajoie have an improved season from last year, 2022-23 will be a success for him. If he can get to that point, a chance at an NHL training camp in the fall of 2023 won't be out of the question.