With the trade deadline now just days away, we're wrapping up our profiles of several players whose names are still on the trade block and are likely to be dealt by March 1st.
The Tampa Bay Lightning have been busy, dealing Ben Bishop to Los Angeles, and Brian Boyle to Toronto. Another couple names keep popping up and one of those is center Valtteri Filppula, a player who can offer a playoff team depth down the middle.
Contract
Filppula signed with the Bolts before the 2013-14 season, a five-year, $25MM deal. With two years left on that deal, Filppula and the Lightning have a chance to help one another. The deal includes a no-trade clause which Filppula would have to waive, but should it be to the right team, general manager Steve Yzerman could make a deal to ease the financial strain on his team.
2016-17
Filppula is a defty centerman, known for creating plays and less for scoring goals. He's only had two 20-goal seasons–once in Detroit and Tampa Bay. But he creates offense and is responsible in his own end, making him a valuable player come playoff time. This season, Filppula has already eclipsed his point total for last year, recording 34 in 59 games this year. He's currently fifth on the team in points, and valuable in the faceoff circle.
Season Stats
59 GP: 7 goals, 27 assists, 34 points, +1 rating, 17:30 ATOI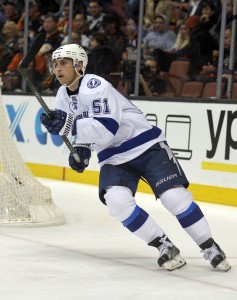 Suitors
It's going to take some creativity on Yzerman's part to make this trade happen. Less than 24 hours from the deadline, Filppula's name has been tagged in a number of scenarios, with Bob McKenzie tweeting that of the 13 teams listed on his no trade clause. It makes McKenzie's tweet that much more interesting since one of the blocked teams could potentially work it out. The Florida Panthers, who have surged lately, could absorb the hit for another season and it would provide more depth. The Toronto Maple Leafs would be another option, reuniting Filppula with Mike Babcock, who he was a Stanley Cup with in 2008. Filppula's playoff experience, and strong performances during those playoff runs, would make him valuable to a team looking to get that necessary bump in depth. If Tampa is willing to absorb even a little bit of salary, the Edmonton Oilers, or the Nashville Predators could be destinations. Even the New York Islanders, who are knocking on the door, could swing a deal with the right financial plan. The Oilers look less likely, however, after swinging a deal to acquire David Desharnais.
Likelihood Of A Trade
The challenge for Yzerman is getting Filppula to waive his no-trade as well as massaging a deal that doesn't financially cripple a team. Retaining only half of the deal for an extra season would help, but still require more work as Yzerman has a number of moves to make in the offseason. Shedding the contract would be helpful for Yzerman and the Bolts while Filppula would help a team during a playoff run.