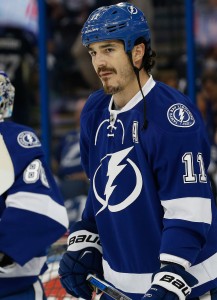 The Tampa Bay Lightning have traded Brian Boyle to the Toronto Maple Leafs. The Leafs will send back a 2017 second-round pick and minor league forward Byron Froese. The pick will be the better of the three second-round picks the Maple Leafs currently own—the middle one of which is owed to the Ducks for Frederik Andersen, who then promised it to Dallas for Patrick Eaves. The deal gives the Maple Leafs a much needed fourth line center as they have had underwhelming performances from both Ben Smith and Frederik Gauthier.
When the Lightning called up two players and claimed another today off waivers, rumors flew about the possibility of the team shipping out another player. Steve Yzerman admitted that they brought the bodies up just in case something happened because they still wanted to ice a competitive lineup tonight against the Ottawa Senators.
Boyle, 32, is exactly what Mike Babcock has wanted from his fourth line center, capable of playing on the penalty kill while winning faceoffs and being a big body—Boyle is 6'6″, 240 lbs at a conservative estimate. He also brings the most playoff experience available on the open market, playing in 95 postseason games since 2012 more than every other skater other than Carl Hagelin (h/t Vin Masi of ESPN).
The Maple Leafs, currently in the final playoff position in the Eastern Conference but just five points out of first place in the Atlantic Division are embroiled in a battle for the rest of the season that many of their players have never experienced. Even the old guard like Tyler Bozak and James van Riemsdyk have only played in a single series with the team (though van Riemsdyk played in the playoffs as a youngster for the Philadelphia Flyers).
Boyle is on an expiring contract and will cost the Maple Leafs just $466,667 in cap space according to CapFriendly, assuming that the Lightning don't retain any salary. Because of the LTIR situation of the team, the Leafs could spend a lot more at the deadline this season and to try and force their way into the East picture. According to John Shannon of Sportsnet, the teams have not (and may not plan to) discussed any possible extension.
Bob McKenzie of TSN was the first to break news that the two were finalizing a deal. 
Photo courtesy of USA Today Sports Images