The Ottawa Senators aren't finished. The team has acquired winger Viktor Stalberg from the Carolina Hurricanes in exchange for a third-round pick in the 2017 draft.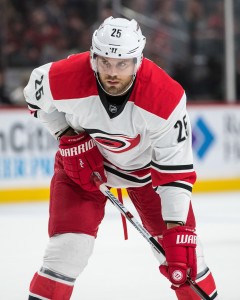 As noted when the team traded for Alex Burrows yesterday, the Senators have needed depth on the wing all season and have now added both size and scoring potential in their two new players. Stalberg is a big bodied winger with speed to burn and a 20-goal season in his past, though he's used more as an intimidating forchecker and penalty killer these days. A role-player in the Chicago Blackhawks 2013 Stanley Cup, he does have 43 games of playoff experience and will fit well into the bottom-six of the Senators.
With Ottawa just four points back of Montreal for first place in the Atlantic (with two games in hand mind you), owner Eugene Melnyk gave a clear directive for the Sens front office to follow. Playoffs or bust in 2017. The Senators are an internal budget team that relies on playoff revenue to continue to operate slightly above the cap floor, and with the two additions they've helped their case down the final 20 games. Though a third-round pick may seem pricey for a rental in Stalberg, they will likely recoup some of their lost draft selections with other trades—like a possible Curtis Lazar swap—before the draft this year.
For the Hurricanes, this represents an excellent value for Stalberg after signing him in the summer to a one-year deal. Though they had hoped that a playoff run was on the table this season, they still have an excellent young team and now own seven selections in the first three rounds of this summer's draft. With the Metropolitan looking like a juggernaut for at least this season, but several teams (see: Washington) having multiple free agents leaving them this summer the slow burn of a Carolina rebuild may eventually pay off.
The Hurricanes still have Jay McClement and Lee Stempniak as possible veteran additions or a handful of young defenders to waive in front of team's noses for the next 25 hours. They could easily acquire even more picks, or perhaps another young scoring forward before the deadline.
Pierre LeBrun of ESPN was first to break the deal on Twitter after Elliotte Friedman of Sportsnet heard rumblings earlier today. Darren Dreger of TSN chimed in with a confirmation and the details on the pick going to Carolina.
Photo courtesy of USA Today Sports Images.