When the 2021-22 season begins, for the first time in nearly two decades the NHL will not include Ryan Miller. The Anaheim Ducks goaltender has announced that he will retire at the conclusion of 2020-21. In a team release, Miller explained his decision:
It was a dream come true when I played my first NHL game and it has been a privilege to spend 18 years as a professional. I have decided that I am going to retire after the season having been given more time doing what I love than I could ever have hoped for. Thank you to you my teammates and staff, past and present. I'm thankful to so many who made my career possible and helped me on my journey from youth hockey to the NHL. Thank you to my family for supporting me with so much love and enthusiasm.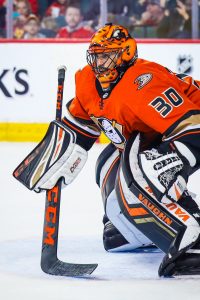 Now 40, Miller will hang up his pads as arguably the best U.S.-born goaltender in history. He leads all American goaltenders in wins with 390 over his long career, coming in 14th all-time in the category. His career save percentage still sits at .914 even after the last few years, and he has a cabinet full of trophies. The 2001 Hobey Baker Award winner at Michigan State University, he went on to win the AHL Goaltender of the Year and Vezina Trophy along with adding an Olympic silver medal.
Though he never did get a chance to raise the Stanley Cup over his head, Miller has been a constant presence in the NHL for the last generation and has an outside shot of landing in the Hall of Fame at some point. Of the 13 goaltenders ahead of him on the all-time list, only Curtis Joseph (454 wins) and Chris Osgood (401) have been retired long enough to be eligible but are not in the Hall–Roberto Luongo, Marc-Andre Fleury, and Henrik Lundqvist will all likely get there when eligible.
It is fitting that Miller ends with at least 390 wins, just one ahead of his Buffalo Sabres predecessor Dominik Hasek. Though he may have never reached the spectacular highs of Hasek's career, Miller's long, consistent performance is something to marvel. Congratulations on a wonderful career, Ryan!
Photo courtesy of USA Today Sports Images