After his contract was terminated by the Jets back in April, Dustin Byfuglien became an unrestricted free agent.  While playing again this season was out of the question, he immediately became one of the more intriguing defensemen available on the open market for 2020-21.  However, Sportsnet's Elliotte Friedman reported in the latest Saturday Headlines segment (video link) that the 35-year-old is unlikely to play again.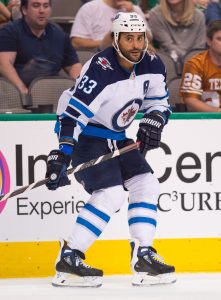 Byfuglien's case was certainly an odd one.  After reporting in advance of training camp, he abruptly left before it got underway, citing a lack of desire to play which resulted in him being suspended without pay for not reporting.  However, it was later determined that he needed ankle surgery which was performed in October.  The Jets argued that it was not hockey related while his camp felt it was related to his time in Winnipeg and thus he shouldn't have been suspended and instead placed on LTIR where he could still collect his salary.
In the end, Winnipeg's argument won out.  As part of the contract termination, it was agreed that Byfuglien wouldn't receive any of the $14MM in salary that he would have been owed for this past season and next.
Ben Hankinson, Byfuglien's agent, told Friedman that teams have inquired about a contract for next season including Minnesota, his hometown team.  But the answer has been the same throughout all of those conversations in that the veteran doesn't appear to have any interest in resuming his career, even with his ankle having recovered from the surgery.
If it is indeed the end of the line for Byfuglien, his playing days wrap up with 869 career games played over 14 seasons with the Blackhawks, Thrashers, and Jets.  In his prime, he was a significant offensive threat with a booming shot, scoring at least a dozen goals in nine years while even spending some time briefly on the right wing.  While his career is certainly ending somewhat quietly off the ice, the uniqueness in how things got to this point will be remembered for quite some time.
Photo courtesy of USA Today Sports Images.