In times like these it is easy to forget about those NHL transactional situations that were ongoing when the league decided to pause their season, but even though no games are being played there is work being done to conclude them. One such situation revolved around the Winnipeg Jets and Dustin Byfuglien, which included all the markings of a good drama—a lack of communication, heaps of frustration and the withholding of large sums of money.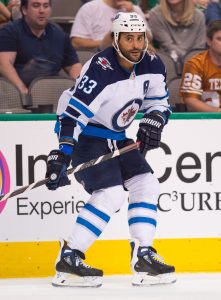 Byfuglien, 35, seemed like he was leaning towards retirement at one point last offseason, but when he didn't go that route and instead simply failed to report to Jets' training camp he was eventually suspended by the team without pay. The veteran defenseman opted for ankle surgery in October without the team's involvement, only complicating things.
For months now there has been reporting suggesting that the two sides were getting closer to a settlement on the dispute over his remaining salary, but nothing has been officially announced from either side. Last night on TSN's Insider Trading, Darren Dreger explained that it all may be coming to a head soon:
It is nearing an end, but obviously given current events it's not top priority for all involved. What I know is that the National Hockey League is scheduled to discuss the situation with the Winnipeg Jets in the very near future. Now, the Players' Association, the league, the player and the Winnipeg Jets are all aligned in the termination agreement, but it hasn't been executed yet and because of that the Winnipeg Jets aren't in a position to announce. The detail work between the league and Winnipeg Jets is expected to ironed out in the near future.
While it's unclear what kind of an agreement will be executed in terms of payment, it will mark the end of Byfuglien's tenure in Winnipeg. Whether he plays NHL hockey again in the future will be up to him, but you can bet that there will at least be some lukewarm interest should he hit unrestricted free agency. To be clear, Byfuglien would not be eligible for the 2019-20 playoffs with a new team regardless of when they happen.
Photo courtesy of USA Today Sports Images