The Winnipeg Jets are finally going to have some closure on the Dustin Byfuglien situation. The veteran defenseman's injury and subsequent suspension have been a dark cloud hovering over the team all season, but according to Frank Seravalli of TSN they will soon reach a mutual contract termination. That would make Byfuglien an unrestricted free agent, and free up the Jets to make a deadline addition with the cap space that they had been holding open for his potential return.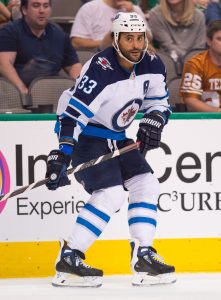 Byfuglien, 34, decided not to report to training camp with the Jets at the last minute after an ankle injury did not respond well over the summer. That led to surgery to fix the issue and a suspension from the team, before Byfuglien ended up filing a grievance for his lost pay. The veteran defenseman was set to argue that it was a legitimate hockey injury, one that would normally not stop the team from paying him the $8MM salary he was owed this season in the second last year of his contract.
That contract, which extends through the 2020-21 season meant Byfuglien was owed $14MM for this year and next. Retirement would have meant the Jets could use that cap space for a different player, but also would mean the veteran defenseman was voluntarily walking away from the money. It's unclear what kind of arrangement will be made with this termination, or when exactly it will be executed.
For the Jets, while obviously they would have wanted the big defenseman in the lineup all year, they'll now be able to find a different way to shore up the back end. Quickly the team now becomes one of those with plenty of cap space to use at the deadline, though it's still unclear what path they will go down. At 26-23-4 the playoffs aren't even a sure thing for Winnipeg, making any big additions risky.
A termination would make Byfuglien an unrestricted free agent and able to sign with any team, however he has not yet started skating in his rehab from ankle surgery. In order to be eligible for the playoffs, he would need to sign with a team before the February 24th trade deadline.
Photo courtesy of USA Today Sports Images