The Winnipeg Jets and Dustin Byfuglien have finally officially parted ways, with the league announcing that his contract has been terminated. The two sides have "mutually resolved" the grievance filed by Byfuglien that followed his team suspension earlier this year. Effective immediately, Byfuglien is now an unrestricted free agent.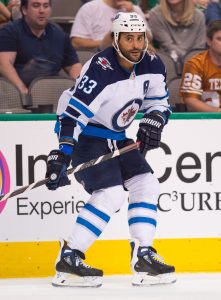 Frank Seravalli of TSN reports that Byfuglien will not receive any of the $14MM he was owed for the 2019-20 and 2020-21 seasons, while Pierre LeBrun of The Athletic notes that he will not be allowed to sign with a team should this season resume. Though it is hard to know exactly what the future holds for Byfuglien, John Shannon tweets that several of his sources are suggesting that the veteran defenseman's career is over and that he "has no interest in playing." His entire $7.6MM cap hit will be removed for the Jets.
Notably, Byfuglien decided—without consulting the Jets organization—to get ankle surgery in late October. That injury was the basis of his grievance, as his camp argued that it was hockey related and would have allowed him to be placed on long-term injured reserve. In that case he would have still been able to collect his remaining salary, though that outcome is obviously off the table now.
It's hard to really encapsulate what kind of impact Byfuglien had on the ice when healthy. As the game continued to move towards smaller skilled players, the Jets defenseman was a throwback to a much more physical brand of hockey. Basically always the biggest and strongest player on the ice, fans will remember countless times "Big Buff" would throw around smaller opponents with ease.
But his physical prowess wasn't the whole story with Byfuglien. An eighth-round pick by the Chicago Blackhawks in 2003, he played both defense and forward with that organization and won the Stanley Cup in 2010. A talented offensive player, he recorded at least 45 points in seven different seasons and currently has 525 points in 869 career games.
Now 35, you can bet Byfuglien's name will still come up in the future as a potential addition for a contender looking to shore up their defensive group. Whether he ever plays again is up to him, but it won't be in Winnipeg.
Photo courtesy of USA Today Sports Images