Navigating the Salary Cap is probably one of the more important tasks for any general manager to have. Teams that can avert total Cap chaos by walking the tightrope of inking players to deals that match their value (or compensate for future value without breaking the bank) remain successful. Those that don't see struggles and front office changes. 
PHR will look at every NHL team and give a thorough look at their cap situation heading into the 2017-18 season. This will focus more on those players who are integral parts of the roster versus those who may find themselves shuttling between the AHL and NHL. All cap figure were taken from CapFriendly.
Detroit Red Wings
Projected Cap Hit:  $78,021,212 (Over by $3,021,212)
Entry Level Deals: 
Dylan Larkin (1 year remaining/$925K)
Anthony Mantha (1 year remaining/$863,333)
Things will get interesting when the Wings sit down to negotiate with both Larkin and Mantha following the 2017-18 season. Both are considered the foundation that the Red Wings will build on for the future, but Larkin saw regression after a torrid rookie campaign in 2015-16. Larkin, who moved back to his native center position after spending the season at wing during his first season, is expected to bounce back. Mantha who scored at a high clip when given the ice time, will command a higher payout should his scoring continue. Mantha could be a 30-goal scorer in the league if the Red Wings allow him to play the role of goal scorer instead of two-way forward. Regardless, both will see a significant bump and this will only tighten things further.
1 Year Remaining
Mike Green ($6MM AAV)
Petr Mrazek ($4MM AAV)
Riley Sheahan ($2.08MM AAV)
Tyler Bertuzzi ($661K AAV)
Ryan Sproul ($625K AAV)
Jared Coreau ($613K AAV)
The deals falling off after the current season will account for a good chunk of change that will allow for Larkin and Mantha to be re-signed with ease. Additionally, some of these contracts, should Detroit struggle again as they're widely expected to, could net some prospects or draft picks. Green is the likeliest candidate to be spun off while Sheahan is expected to bounce back after an offensive challenging season that saw him left off the goal sheet until the final game of the season.
Sproul will either be re-signed to a minor deal or left to go as other defensemen have rocketed up the prospect list. His suspect defense takes away from his roaring slap shot, which was counted on to one day sustain the Red Wings powerplay. Bertuzzi should see time with the big club, but with Witkowski being a hybrid defenseman/forward, he may be stuck in Grand Rapids as the tie always goes to the veteran in Detroit.
Mrazek is an odd case. Bemoaned for a bad attitude coupled with a below average season, it can't be expected that unless he puts up Vezina like numbers or dramatically changes his standing with the team that he'll be back. Though he could be dealt, teams have made it clear they're not interested, which makes it likely both teams walks away at the end of the term. Coreau will likely see time like he did last season when either Mrazek or Howard were injured.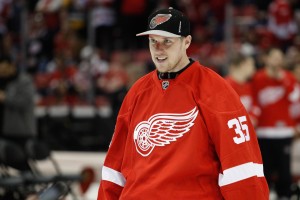 2 Years Remaining
Jimmy Howard ($5.29MM AAV)
Niklas Kronwall ($4.75MM AAV)
Gustav Nyquist ($4.75MM AAV)
Xavier Ouellet ($1.25MM AAV)
Nick Jensen ($812.5K AAV)
Luke Witkowski ($750K AAV)
Howard was expected to be dealt or drafted in the expansion draft until stories of Mrazek surfaced. Instead, Howard is now seen as the #1 goalie in Detroit. The contract itself, however, has been a bust as Howard has either not been healthy or inconsistent during the duration of the deal. It's very likely that Kronwall ends up on the LTIR as he is literally skating on one knee. His mobility, and puck moving ability has deteriorated quickly, but the Red Wings still insist on giving him minutes on the power play. Should he not end up on the LTIR, he will most likely see his minutes decrease, which only makes his contract look worse.
Nyquist is a curious story as he was paid to score goals, but has still been very productive on the ice, being a boon for teammates in terms of setting up scoring chances. Witkowski was added for "grit" at a relatively cheap price.
The Red Wings cap issues began with some of these deals–offering money for players who didn't exactly stay consistent with expectations. Things get considerably worse as years were added.
3 or More Years
Jonathan Ericsson ($4.25MM AAV – 3 years remaining)
Trevor Daley ($3.167MM AAV – 3 years remaining)
Henrik Zetterberg ($6.08MM AAV – 4 years remaining)
Tomas Tatar ($5.3MM AAV – 4 years remaining)
Darren Helm (3.85MM AAV – 4 years remaining)
Luke Glendening ($1.8MM AAV – 4 years remaining)
Frans Nielsen ($5.25MM AAV – 5 years remaining)
Danny DeKeyser ($5MM AAV – 5 years remaining)
Justin Abdelkader ($4.25MM AAV – 6 years remaining)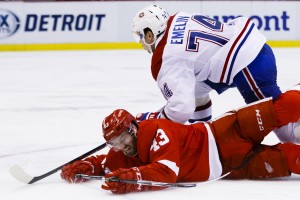 Here's where the Red Wings have run into problems. The vast majority of players owed the bulk of dollars and years are not living up to expectations or are regressing with age. Zetterberg will be owed a sizable contract for another four years, and Father Time will slow him from his great season last year. Nielsen is also on the books for awhile, and is nearing his mid-30's which doesn't bode well for his numbers or the team's overall performance.
But Ericsson, Glendening, Helm, DeKeyser, and Abdelkader have head scratching deals that could cripple Detroit for years to come. None of the aforementioned are top tier players, and Helm, Glendening, and Abdelkader are at best, third line forwards. Ericsson continues to struggle while DeKeyser is not a top pairing defenseman, yet is paid as one. The addition of Daley seems more cosmetic–an indicator that Detroit still wants to be considered a playoff team. But his projected 20 points will do little to help a team that has yet to reach bottom. When the figures are added, Detroit owes approximately $38.94MM of its cap to these players. Outside of Tatar, who just re-signed, this is problematic for a team that believes it can compete in the playoffs.
Buyouts
Stephen Weiss ($2.566MM AAV this season, $1.67MM AAV through 2021)
LTIR
Johan Franzen ($3.94MM AAV – 3 years remaining)
Un-signed
Andreas Athanasiou (RFA)
Best Value – Tomas Tatar
Worst Value – Justin Abdelkader
What does the future hold? 
These aren't the Red Wings of the 90's or 2000's where a blank check is afforded to get the best players. Detroit has serious issues in terms of cap management, and recent stories of the no-trade clauses afforded with many of these contracts are problematic as well. General manager Ken Holland has painted himself into a lonely corner, and a poor showing this season could possibly spell doom for his long tenure with Detroit. Maybe things will go favorably for Detroit this season, but after a challenging 2016-17 campaign and very little improvement on the roster, the Red Wings will be hard pressed to stay afloat in a competitive division and conference. Though they could try to peddle contracts away, the long terms and excessive dollars make it challenging for Holland and company to get them off the books–or worse–getting any value for those players shipped off.
Photos courtesy of USA Today Sports Images