Arbitration hearings get back to business on Wednesday after a short break due to early settlements, and Calvin de Haan is next up on the agenda. The two sides exchanged figures today, and they're still quite a bit apart on his value for next season. According to Elliotte Friedman of Sportsnet, the New York Islanders' offered a one-year $1.95MM deal, while de Haan's camp is looking for a one-year $5MM contract. As we've seen, the two sides can come to an agreement even after the hearing, in the 48-hours the arbitrator has to decide on a salary for next season.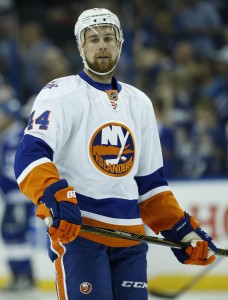 de Haan is in his final year of restricted free agency and therefore could not receive a two-year deal in arbitration like most players. He'll be heading to unrestricted free agency next summer if it comes down to an arbitrator's decision, though obviously an extension is still possible after that. If he's looking for at least $5MM through his UFA years though, the Islanders' may not be able to afford to keep him. The team already has Nick Leddy and Johnny Boychuk locked up long term for $11.5MM combined, and will need all the money they can get for what is turning into a huge summer for them in 2018. Not only is John Tavares due for a massive extension, but Josh Bailey, Nikolai Kulemin and Thomas Hickey are set to become UFAs and the team will have to decide what to do in net behind (or beside) Thomas Greiss. Brock Nelson, Alan Quine, Shane Prince, Ryan Pulock and Scott Mayfield are all restricted free agents needing new contracts, with most eligible for arbitration.
So, it will be interesting to see what de Haan is awarded should it get that far. He's coming off a year in which he recorded a career-high in points with 25 while playing over 19 minutes a night for the fourth straight season. Playing in all 82 games he easily led the team in blocked shots and is an excellent possession player in terms of both shot generation and suppression. His effect is clear at both ends of the rink, and he's asking to be paid like a true top-4 option. The Islanders' counter seems to make little sense, since de Haan's qualifying offer was $2.5MM and even his cap hit was (slightly) more than $1.95MM last season.
It would be almost impossible for an arbitrator to decide that the Islanders' number is acceptable, though unlike the MLB the decision does not have to be one or the other. They can award any salary, and anything over $4MM the Islanders can choose to walk away from. It's unlikely they'd do that in this case, as they're trying to compete this season but it would be interesting with only $6.9MM left in cap space and a clear desire to add another piece before the start of the season. Depending on the decision they could be forced to move some salary out in any trade, making a deal for a top name like Matt Duchene even harder to accomplish.
Photo courtesy of USA Today Sports Images