Last season we saw one of the greatest rookie crops come through the league in quite some time. Auston Matthews, Patrik Laine, Zach Werenski, Matt Murray, Mitch Marner, William Nylander, Travis Konecny, Ivan Provorov, Matthew Tkachuk, Sebastian Aho, Brayden Point the list could go on and on with the players who made an impact right away in their first full season. The league continues to skew younger and younger, and we got a taste last year of some of the names we'll see fighting for the Calder trophy next season as well.
No longer is there an age restriction on the NHL, since teenagers have taken the league by storm with their blend of speed and skill. Even before they've grown into their bodies they're putting up 40-goal seasons, or winning back-to-back Stanley Cups. So who will be the next wave of players to change their team's fortunes and make an impact from the second they step on the ice? While there may not be another crop like last year, there are plenty of interesting names to keep an eye on.
Without dipping into the 2017 draft class, of which Nico Hischier, Nolan Patrick and others both may jump right into the top league, we'll examine some early favorites who have both the talent and opportunity to find immediate success.
Clayton Keller – Arizona Coyotes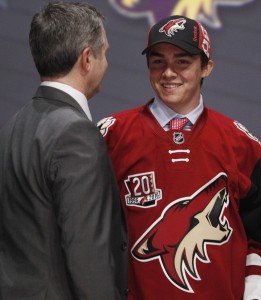 Keller made his NHL debut last spring after exiting Boston University and immediately made his presence felt. In three games he registered a pair of assists, and showed off his incredible offensive skill. As a freshman at BU he scored 45 points in 31 games, won gold at the World Juniors and put up seven points in eight games with Team USA at the World Championships playing against other NHL stars. Like Marner last year there are questions about his size and durability, but Keller has excelled at every level so far and if given the chance could be a difference maker on the Coyotes.
Dylan Strome – Arizona Coyotes
In any discussion of young Coyotes you also have to mention Strome, the third-overall pick from 2015 who started the season with the team last year before heading back to junior for another year. Upon his return Strome dominated as part of one of the most talented lines in the OHL, but some still question his NHL ability in 2017-18. There is potential for a franchise centerman here, but there is also a substantial amount of risk that Strome's skating will hold him back from being the elite offensive player he is at the lower levels.
Tyson Jost – Colorado Avalanche
Another NCAA-turned-NHL player this spring, Jost finished his year with six games for the Avalanche and even scored his first goal. It's all about speed with Jost, who is rarely caught standing still and always seems to have the puck follow him around the ice. His year was spent in North Dakota where he scored 35 points in 33 games, and given the poor results of Colorado last year could be given an opportunity to impress right away. If put on a line with other young offensive talents in Colorado, Jost could end up with a healthy number of points even if some of his fundamentals at the center ice position still need work.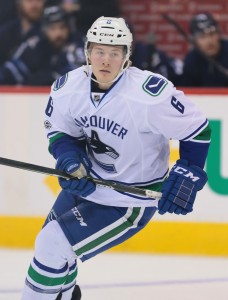 Brock Boeser – Vancouver Canucks
Boeser was Jost's teammate (and often linemate) at North Dakota, and jumped straight to the NHL after losing out in the NCAA tournament only to immediately make an impact for the Canucks. Boeser scored what would end up being the game-winning goal in his first NHL game, in a fashion that will foreshadow how he'll be effective at the next level. Speed, playmaking and a never-ending drive for the net will be the hallmarks of Boeser's career, and he'll be given a chance right away with some of Vancouver's top forwards. In nine games at the end of the year he registered five points, including two powerplay tallies set up by Henrik Sedin.
Charlie McAvoy – Boston Bruins
On defense, the Bruins' top prospect leads the list after debuting in the Stanley Cup playoffs this past season. McAvoy looked every bit as confident and smooth as expected, even when being chased by NHL forwards and paired with the legendary Zdeno Chara. While Boston won't want to put too much on the 19-year old's shoulders right away, he's always floated to the top of any team he's played on and didn't log less than 24 minutes in a single one of his six playoff matches. The Bruins will have several rookies in the lineup next season, but it's not just top pairing potential for McAvoy, it might already be performance.
Julius Honka – Dallas Stars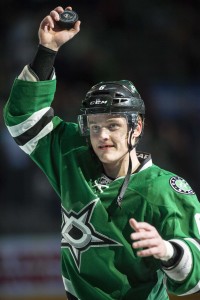 A player that likely could have been included at the top of this article had he been given the chance, Honka comes into this season ready to take the next step and be a full-time player on the Dallas blueline. After three development years in the AHL where he's shown off his high-end offensive talent on a nightly basis, he may just end up as one of the top up-and-coming defensemen in the league at year's end. His two-way skill is reminiscent of teammate John Klingberg, and showed it off by being arguably Finland's top defender at the recent World Championships. With 16 games under his belt and turning 22 this season, he's ready to help the Stars get back to the playoffs right away.
*Note: There are many other rookies that have impact potential that will be profiled throughout the summer as we approach the season. These are in no particular order or ranking.
Photos courtesy of USA Today Sports Images