The Buffalo Sabres have avoided arbitration with Nathan Beaulieu, signing him to a two-year contract worth a total of $4.8MM just days before his hearing was scheduled. The 24-year old was due in Toronto for his hearing on Friday, but is another case of a player signing before going through the sometimes difficult process. He'll still be a restricted free agent at the contract's conclusion.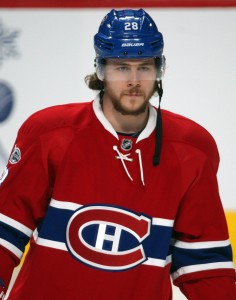 Beaulieu was acquired from the Montreal Canadiens earlier this offseason in exchange for a third-round pick, and will be expected to take on a bigger role in Buffalo this season. Playing over 19 minutes a night for the first time in his career, Beaulieu recorded 28 points and showed he was at least somewhat capable in running a powerplay unit. While he'll likely be slotted in behind Marco Scandella in terms of five-on-five ice time, he should find a home on the second PP unit and be able to lengthen out the Sabres blue line. Montreal clearly wanted to move on from his style, as they moved Beaulieu and Alexei Emelin off and brought in Karl Alzner to fill most of the vacant even strength minutes.
An average annual value of $2.4MM actually slots Beaulieu in as the fifth-highest paid defender on the team, and he should provide good value for the deal. If he's able to take another step forward it could turn into a huge steal for Buffalo, as he does have the potential to be a high-reward offensive player. Grouped with a more defensive option, Beaulieu could be deployed in a way to maximize that puck-moving ability and turn him into an effective weapon. We'll see if he can finally sharpen that defensive game enough to be trusted with more minutes, but either way he should be an upgrade on the weak group the team iced last year.
It will be interesting to see what Beaulieu gets in his next contract, if he puts up another pair of seasons in the 30-point range. He'll be a 26-year old arbitration eligible RFA, meaning any length of contract would be eating into his unrestricted free agent years. The Sabres won't have to worry about that for a while, but it's still something to think about as they move forward in long-term negotiations with Jack Eichel and company.