Last week we took a look at some of the most interesting rookie names around the league, profiling Clayton Keller, Dylan Strome, Tyson Jost, Brock Boeser, Charlie McAvoy and Julius Honka. Each of those names have a chance at making a real impact for their respective clubs in 2017-18, and at least a few could be in the running for a Calder trophy as Rookie of the Year. Again, this series is avoiding the 2017 draftees as they'll be profiled individually as we get closer to camp and have a better idea of who will be staying in the NHL right away.
For this part, we'll take a look at some other young players who may not have the same draft pedigree of Strome, or early impact that Boeser, McAvoy and Honka have shown.
Josh Ho-Sang – New York Islanders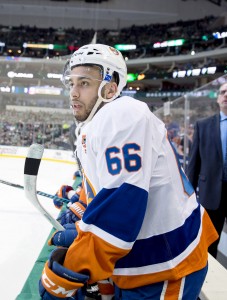 One of the most mentioned names in comments after releasing the first group of players was Ho-Sang (along with Mathew Barzal). While part one was certainly not meant to rank any of the upcoming young players, Ho-Sang's exclusion was certainly noticeable. After making his NHL debut this season under some (silly) controversy, Ho-Sang is ready to take the next step and be a full-time contributor to the Islanders this year. Regardless of the number on his back, he showed during his 21 game stint that he can compete at the highest level and registered 10 points. No one would be shocked by a 40-point season from the young forward, and if given a full-time opportunity in New York's top six he could push even higher than that.
Thomas Chabot – Ottawa Senators
One of the most impressive players in junior hockey last year, Chabot spent a single game with the Senators and is just about ready to take the NHL by storm. It's hard for a defenseman to step right into a big role in the NHL, but with Erik Karlsson and Cody Ceci still around Chabot can easily be sheltered to start his career. It's unclear where exactly he'd fit though as the team still has Chris Wideman, but if given the opportunity Chabot could provide a dynamic option on the right side. The Senators also brought in Johnny Oduya and have at least eight names that could take up six spots, so that opportunity may have to wait for an injury.
Anders Bjork – Boston Bruins
The Bruins team bus will be a rowdy place this year given how many rookies and young players could be on the roster, and Bjork isn't one to overlook. The fifth-round pick dominated for Notre Dame as a junior before signing this spring, and looks ready to jump right into a top-six role with the NHL club. There seems to be a natural fit for him across from David Pastrnak to make a dynamic second unit for the Bruins, but how it all shakes out still isn't clear. It's not even set that he'll start the year in the NHL, but after 52 points on a Fighting Irish club that relied almost solely on his production and Cal Petersen's outstanding goaltending he sure seemed ready to take the next step.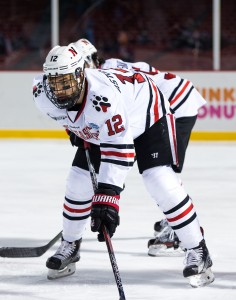 Zach Aston-Reese – Pittsburgh Penguins
Another college name, this time of the free agent variety continues to impress in Aston-Reese. A finalist for the Hobey Baker trophy, Aston-Reese has done nothing but score since being passed over in the draft several times. The 22-year old put up 63 points in 38 games for Northeastern, before jumping right into the AHL and showing off with eight points in 10 games. He's big enough to play in Pittsburgh's bottom-six right away, and there is a glaring hole at center that the team still needs to address. Pittsburgh is notorious for turning college players into immediate producers, and it could be no different for the bang-and-crash two-way player in Aston-Reese. The forward depth of the Penguins could lead to big minutes with players like Phil Kessel or Patric Hornqvist, a situation no young player would pass up.
Alex DeBrincat – Chicago Blackhawks
78 goals, 165 points and the disappointment of being cut from the US World Junior team and losing the Memorial Cup should be more than enough motivation for DeBrincat coming into Blackhawks camp, who will try to crack the squad at 19 and show that his small stature doesn't hold him back on the ice. In junior he was almost always the most skilled player in the game and has showed it by scoring more than 100 points in three straight years. There are doubts about his durability and even some about his top-end speed—though his first-step acceleration and quickness was among the best in the OHL—but it's clear that he knows how to score. For a team desperate for cheap forward options that can play up with their top names, DeBrincat could come into a perfect scenario and compete for the rookie scoring title.
*Note: There are many other rookies that have impact potential that will be profiled throughout the summer as we approach the season. These are in no particular order or ranking.
Photos courtesy of USA Today Sports Images