As the holiday season approaches, PHR will look at what teams are thankful for as the season nears the quarter point of completion. There also might be a few things your team would like down the road. We take a look at what's gone well in the first month and what could improve as the season rolls on. So far we've covered ANA, ARZ, BUF, CGY, CAR, CBJ, COL, DET, LAK, NYI, STL, TOR, WSH, and VGK.
Who are the Nashville Predators most thankful for?
David Poile.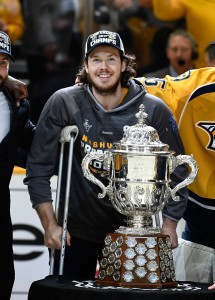 Not only did Poile orchestrate trades for P.K. Subban and Ryan Johansen that resulted in a Stanley Cup Finals berth in their first full season with the team, but he has repeatedly locked up assets for reasonable contracts and once again used his trading skills to bring in a key player. Over the past two summers, the Predators had several high profile restricted free agents to sign. Johansen, Filip Forsberg, and Viktor Arvidsson were all without deals but are now locked in for at least five seasons together.
Poile was able to sign the trio to a combined $18.25MM cap hit because of previous deals he'd struck, most notably with Ryan Ellis, Roman Josi and Mattias Ekholm. That group is currently earning only a combined $10.25MM, despite each being regarded as potential top-pairing options.
He's done it again this season, by bringing in Kyle Turris and immediately extending the center for another six seasons without any signing bonuses or trade protection. Turris has played just nine games since coming over from the Ottawa Senators but has fit in perfectly, recording seven points already. Poile has never been one to shy away from long contracts or big trades, and it's paying off again in the standings this year.
What are the Predators most thankful for?
Improving health.
The end of last year's playoffs must have been hard to watch for the Predators front office, as Johansen, Kevin Fiala and others went down to freak injuries just as they were approaching the Finals. That injury luck carried into the summer, when doctors told the Predators in September that Ellis could need another six months to rehab his surgically repaired knee. He'd hurt it in those Stanley Cup Finals, but played through pain in Game 6 anyway.
Ellis joined teammates on the ice today for their morning skate, the first time he'd attended a team practice since the surgery according to Adam Vingan of The Tennessean. While it isn't at all a signal that he's set to return early, just the fact that he's "on track" is good news for Predators fans. A return from the 26-year old will be a huge addition for the team, as he is as important as any other defender to the club when fully healthy.
What would the Predators be even more thankful for?
Someone slowing down the St. Louis Blues and Winnipeg Jets.
No matter how well the Predators play, they still are in a division with two teams that look equally dangerous. The Blues and Jets have played just about as well as you could this season, and both sit above Nashville in the standings (not to mention the Dallas Stars and Chicago Blackhawks looming in the shadows). All three teams have some similarities, but the Predators will hope that their experience from last season will take them to the next level this year.
Winnipeg is especially green, but loaded with young talent throughout their roster. With a goaltender who is finally stopping the pucks on a regular basis, they look primed to wrench open their window of success a little early.
St. Louis has been arguably the best team in the NHL right from the start, armed with an incredibly deep forward group and a Norris candidate defenseman. Even with some struggles from Jake Allen recently, the team keeps winning and could be unstoppable if he can find his form once again. The 27-year old goaltender struggled early on last year as well, before going on a Vezina-caliber run through the second half and early playoffs. St. Louis doesn't look like they're going away anytime soon.
What should be on the Predators Holiday Wish List?
Another scoring winger.
Despite locking up their core long-term this summer, the Predators actually have a bit of cap space to play with as they head into the months leading up to the trade deadline. Though young forward Fiala has been solid on the powerplay and Turris has added another dimension down the middle, they still rely too heavily on their top three to handle the scoring load. One more forward capable of playing somewhere in the middle-six could push them over the edge.
After already dealing Samuel Girard, Vladislav Kamenev and a second-round pick to obtain Turris, it's not clear if Poile wants to sacrifice more future assets for help this season. But if a big, scoring winger were to shake loose at the deadline, they'd surely have to take a look.
Photo courtesy of USA Today Sports Images