The Montreal Canadiens have been in the news on a daily basis recently, given the situation surrounding captain Max Pacioretty. The 29-year old winger is heading into the final season of his current contract and apparently hasn't been offered an extension by the Canadiens. Reports of a previous trade request have surfaced along with confirmation that the Canadiens had a deal worked out with the Los Angeles Kings at the draft, leading many to believe that there will be a split before the season begins.
If there isn't though, and Pacioretty laces up his skates at training camp and to begin the season—something he is expected to do with or without a contract extension—he'll still be considered one of the biggest names on the trade market during the year. As the deadline next February approaches, Pacioretty's name would be brought up again and again due to his relatively low cap hit and still capable offensive game. But there is more in Montreal than just Pacioretty when it comes to trade chips.
By all accounts, the Canadiens front office is hoping—even expecting—a rebound from their disappointing 2017-18 campaign. A healthy Carey Price would go a long way to that goal, especially given Shea Weber's ongoing struggles. Weber underwent surgery in June to repair the meniscus in his knee, and is expected to be out until December. The team got a taste of what their defensive group was capable of without Weber last season, and could struggle once again this year. If they do, and Price can't return to his Vezina form to bail them out of it, the season could be lost once again.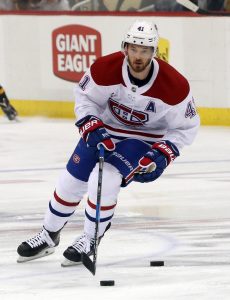 If the deadline approaches and Montreal is out of it, they stand ready another incredible asset. Paul Byron, who is also coming back from surgery this offseason, is another player heading into the final season of his current contract and scheduled for unrestricted free agency in the summer of 2019. The different between Byron and many of the other assets that could be on the market though is his ridiculously low cap hit. At just $1.167MM, Byron has been one of the leagues biggest bargains the last two seasons and will likely get a chance to perform once again in 2017-18. The fact that his actual salary is even lower—just $1MM this season—makes him one of the most attractive assets that could be available.
To many, Byron may not seem like as notable an addition as someone like Pacioretty. But looking at the potential names available at the deadline, few can match Byron in terms of even strength goal scoring. Over the last two seasons Byron has tallied 38 goals at even strength, more than incredible talents like Phil Kessel, Jack Eichel, Leon Draisaitl, Johnny Gaudreau, Anze Kopitar, and yes, even Pacioretty. He's done that scoring despite averaging fewer than 13 minutes of even strength time per night and playing several different positions and with different linemates.
In fact, there may be a case to be made that Byron is a better asset than Pacioretty at the deadline given his versatility. Byron averaged almost two minutes of short handed time last season, and was arguably the Canadiens best penalty killer. A team looking for help during a Stanley Cup run will strongly consider the Montreal forward if made available. That's not guaranteed though, as Montreal could still offer Byron an extension in the coming months instead.
There are others too, including Tomas Plekanec, Jordie Benn and David Schlemko that could all bring back a potential return at the deadline. Schlemko is signed for two seasons, but the former two are both inked for just one year and could be worthwhile depth additions at the deadline.
If the Canadiens find themselves out of the picture partway through the season, there's no reason to hang onto their expiring assets. Luckily, they still carry enough value to allow a team that should be considering a real rebuild to cash in on their final days. It's newsworthy times in Montreal right now, but could be again a few months down the line.
Photo courtesy of USA Today Sports Images