The Seattle Kraken aren't done. The Kraken have sent winger Mason Appleton to the Winnipeg Jets, the team the Kraken selected him from in the Expansion Draft. In exchange, the Jets are trading the Kraken a 2023 fourth-round pick. Both teams have announced the deal. With tonight's trades of Appleton and Jeremy Lauzon, two more members of the Kraken's original Expansion Draft roster are no longer with the team. The Kraken now have 23 picks in the next two NHL drafts, up from the normal 14 (one per round) allotted automatically to each club, and it is clear that GM Ron Francis has decided to prioritize building a strong prospect pool for his franchise over keeping players who could help his team in the short and medium-term.
Appleton himself did seem to be a player who could help Seattle not only this year but in the next few seasons as well. The Green Bay, Wisconsin native is a pending restricted free agent (with arbitration rights) currently costing his club $900k against the salary cap. His play this season has not led many to believe he would be deserving of a significant raise, which means the motivations for moving Appleton likely could not have been financial. Instead, this trade seems to be about cementing Francis' front office going full-steam ahead in the direction of building a draft pick stockpile that can rival the Central Division rival Arizona Coyotes' impressive hoard. The Kraken's roster is undoubtedly made worse for this season and next by the loss of Appleton, but in trading him they do get to add another pick to help them build a prospect system they hope will become the envy of the league. Ultimately, finding a third or fourth-line winger who plays energetically to fill the role Appleton is vacating is not the hardest task in the offseason, so if the Kraken didn't believe that Appleton specifically was worth keeping long-term, adding a fourth-rounder is a nice way to fill out an unsurprisingly barren prospect cupboard.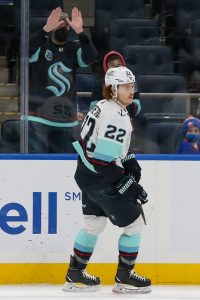 For the Jets, this trade helps them this season and next as they anticipate the exit of middle-six staple Andrew Copp. Appleton is an energetic, fast bottom-six winger who plays relentlessly on the forecheck and can add a little bit of offensive touch. Appleton had his first campaign as an NHL regular last season, scoring 12 goals and 25 points in 56 games, and his success was what led him to be selected by the Kraken in the first place. This season, as the Kraken overall struggled to find their form, Appleton's production suffered, and has only six goals and 17 points in 49 games. If Appleton can return to being the player he was in Winnipeg, this will be a solid use of a 2023 fourth-rounder by Jets GM Kevin Cheveldayoff. The Jets have been a disappointment this season, and one of their better forwards in Copp is set to depart sooner rather than later, but this trade reinforces Cheveldayoff's long-held belief that his team is not too far off from re-establishing themselves as a contender. Adding Appleton is another minor piece of evidence reinforcing the generally-held idea that the Jets don't plan on rebuilding any time soon, and that 2022-23 is going to be a big year in determining the future of the franchise. With this trade, Appleton will again play a role on the Jets and will now have a say in how the team fares in that all-important year.
Elliotte Friedman of Sportsnet reported Appleton returning to Winnipeg. TSN's Darren Dreger was first on the draft pick compensation returning to Seattle. 
Photo courtesy of USA Today Sports Images