The Pittsburgh Penguins have avoided arbitration with Kasperi Kapanen, as PuckPedia reports the two sides have agreed to a two-year deal worth a total of $6.4MM. Kapanen was one of 24 players to file for salary arbitration earlier this month but will no longer need his hearing, which had yet to be scheduled.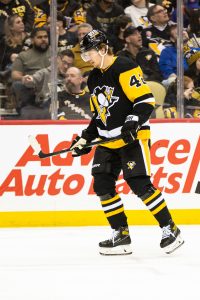 Interestingly enough, because of the way his previous contract was designed by the Toronto Maple Leafs, Kapanen's qualifying offer this summer only needed to be $840K. That's despite a $3.2MM cap hit, the same number he will come in at on this new deal. The arbitration process would have likely yielded a deal similar to this, though the Penguins would have been able to decide whether it was a one or two-year award.
Still, there will be some who are disappointed that Kapanen remains at the same cap hit after another disappointing season. The 25-year-old has such obvious talent, with blinding speed, good puck skills, and a strong shot, but it has rarely resulted in a consistent performance. In 79 games this season he scored just 11 goals and 32 points, barely equaling his totals from 2020-21, when he played in just 40 games.
That has been the story of his career so far, and one that makes this deal relatively risky for the Penguins. Pittsburgh is in a win-now mode as Sidney Crosby, Evgeni Malkin, and Kris Letang approach the end of their careers, making $3.2MM in cap space even more valuable than it would be in some markets. If Kapanen plays the way he did in 2021-22, it will be a waste of precious resources.
Still, there is that tantalizing, immense upside with the speedster. During his first year (back) with the Penguins, that aforementioned shortened 2021-22 campaign, he scored at a 61-point pace. That kind of production would actually bring quite a bit of surplus value to the table and give Pittsburgh another legitimate force in the top nine.
As this will take him to unrestricted free agency in the summer of 2024, there is also a possibility that the Penguins intend to trade Kapanen at some point. The deal did not buy out a single UFA year, meaning he's now scheduled to reach the market at the age of 27 (though he will be turning 28 just a few weeks into that year's free agent period).
Photo courtesy of USA Today Sports Images