6:47 pm: The Flyers have made the deal official (link).
4:59 pm: Another player has settled with his team before their upcoming arbitration date. Elliotte Friedman of Sportsnet reports that the Philadelphia Flyers and restricted free agent winger Zack MacEwen have settled on a one-year, $925K deal for next season.
MacEwen, an undrafted player, broke into the NHL in 2018-19 as a fast-rising member of the Vancouver Canucks organization. MacEwen made a successful transition from being a prolific junior scorer in the QMJHL to being a strong AHL performer. In his rookie AHL year, MacEwen had a healthy 33 points in 66 games. In his second AHL season, MacEwen reached another level, scoring 22 goals and 52 points in 69 games, a performance that earned him a four-game look at the NHL level, where he recorded his first NHL fight.
He got a longer look in 2019-20, scoring five goals in 17 games, before sticking in the NHL full-time in 2020-21, albeit with games missed due to COVID-related absence, healthy scratches, and a suspension. His performance in his first year on an NHL roster full-time – one goal and one assist in 34 games – was not the sort of impactful campaign many had hoped for based on MacEwen's AHL success. As a result, MacEwen was waived by the Canucks at the start of 2021-22.
The Flyers put in a claim for MacEwen, and he ended up in 75 of their games. Philadelphia endured a brutal season last year, and MacEwen's lack of productivity didn't help. He had just nine points in 75 games, production that only lowers the odds of MacEwen ever translating his AHL numbers into secondary scoring at the NHL level.
But, with that being said, there are still things MacEwen brings to the table that the Flyers clearly value, perhaps even more so now that they're under the stewardship of John Tortorella. In his limited ice time per game (under ten minutes last season) MacEwen can bring the sort of energy, physicality, and overall relentlessness most coaches want to see from their fourth liners. MacEwen finished the season with 159 hits, second on the Flyers after perennial hits leader Ramus Ristolainen, and had 110 penalty minutes, racking up quite a few fights.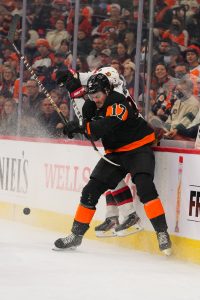 If the Flyers genuinely want to re-shape today's Flyers into authentic "Broad Street Bullies," MacEwen is the sort of player who can help with that.
This one-year, $925K contract gives MacEwen the chance to stick on the Flyers' roster for another year. The one major threat to his place in Philadelphia's plans is the signing of Nicolas Deslauriers to a four-year deal. Deslauriers operates in a similar role to MacEwen, albeit with more experience and a bit more flair. It's possible that the addition of Deslauriers spells doom for MacEwen in Philadelphia, but it's equally possible that Tortorella falls in love with MacEwen's style and finds a way to keep him in a depth role. Whichever route the Flyers go in could be entirely up to MacEwen.
Photo courtesy of USA Today Sports Images