Just yesterday we profiled the Toronto Maple Leafs free agent situation, and our Brian La Rose wrote this in regards to pending UFA Kyle Clifford:
There's mutual interest in a new contract but it's worth noting that Los Angeles paid down half of his $1.6MM price tag in the move.  If Clifford wants a similar contract – and he should be able to get that even in a depressed market – he will almost certainly price himself out of the range that the Maple Leafs can afford to pay.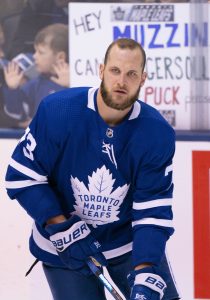 The suggestion that Clifford will be a bit too pricey for the Maple Leafs has been confirmed today, as his agent told Terry Koshan of the Toronto Sun that Clifford will test the open market. Not only will the 29-year-old forward be looking for more than the Maple Leafs can likely pay a fourth-line forward (that is, the league minimum), but his re-signing was also tied to a draft pick condition from his trade in February. Had the Maple Leafs re-signed Clifford, the 2021 third-round pick they surrendered in the trade with the Los Angeles Kings would be upgraded to a 2021 second-round selection.
It's easy to see Clifford as just a forgettable depth forward after the Maple Leafs used him so sparingly, but it's also important to remember that he has two Stanley Cup championships with the Kings and actually scored 11 goals in 2018-19 despite averaging just over ten minutes of ice time a night. The physical forward can skate well enough to keep up with today's game and has actually helped drive strong possession numbers at times.
While he won't be jumping into any team's top-six next season, it makes sense that Clifford and his representatives want to test the open market to see what kind of contract he can secure. Coming off a five-year $8MM deal with the Kings, it will be interesting to see if he can land close to that $1.6MM AAV on his next deal.
For the Maple Leafs, letting Clifford reach free agency always seemed like the likely outcome because of the pick condition, but the team also has some other players pushing for roster spots. Top prospect Nicholas Robertson came in and showed off some of his skill in the postseason, while older forwards like Alexander Barabanov, Egor Korshkov, and Adam Brooks will all be in the mix for NHL roster spots. There's also free agent Jason Spezza, who has indicated his desire to return to the team next season and newcomer Evan Rodrigues who is a restricted free agent but could work out a deal with the team as a bottom-six option.