Navigating the Salary Cap is probably one of the more important tasks for any general manager to have. Teams that can avert total cap chaos by walking the tightrope of inking players to deals that match their value (or compensate for future value without breaking the bank) remain successful. Those that don't see struggles and front office changes.
PHR will look at every NHL team and give a thorough look at their cap situation heading into the 2018-19 season. This will focus more on those players who are integral parts of the roster versus those who may find themselves shuttling between the AHL and NHL. All cap figures are courtesy of CapFriendly.
Current Cap Hit: $77,345,227 (under the $79.5MM Upper Limit)
Entry-Level Contracts
F Alex Iafallo (one year, $925K)
F Sheldon Rempal (one year, $925K)
F Gabriel Vilardi (three years, $925K)
D Daniel Brickley (one year, $925K)
F Adrian Kempe (one year, $894K)
Potential Bonuses
Rempal: $850K
Brickley: $850K
Vilardi: $500K
With a franchise filled with veteran contracts, the team has been forced to slowly integrate some youth onto the team. What the team has recently done successfully is signing several undrafted collegiate free agents, including Iafallo, Brickley and Rempal. Iafallo made the Kings' team out of training camp after four years at the University of Minnesota-Duluth and even started on the team's top line, posting nine goals and 25 points. This year, the team has the same hopes for Brickley and Rempal, two of the top college free agents, who each signed earlier this year and have solid chances to make the club out of training camp.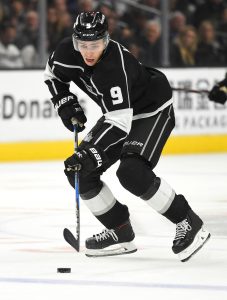 The team also have high hopes that Kempe can continue to develop into a top-six forward after finally breaking into a full-time role with the Kings this year. The 21-year-old 2014 first-round pick posted 16 goals and 37 points last year and could be primed to take that next step next season. Vilardi, the team's 2017 first-rounder, might have made the L.A. team last year if he hadn't suffered a back injury at the end of the 2016-17 season. He missed half of last season, but still posted solid numbers in junior on his return, posting 22 goals and 58 points in just 32 games. He could easily win a bottom-six role immediately and work his way up the depth chart as the season rolls on.
One Year Remaining, Non-Entry-Level
F Nate Thompson ($1.65MM, UFA)
G Peter Budaj ($1.03MM, UFA)
F Jonny Brodzinski ($650K, RFA)
F Zack Mitchell ($650K, RFA)
D Oscar Fantenberg ($650K, UFA)
The team has few contracts that they have to worry about among non-entry level deals. Fantenberg may be the most intriguing of the bunch as the 26-year-old defenseman showed some offensive potential in limited action after coming over from the KHL last year. While he played in just 27 games last season, he posted 13 points and managed to play a significant role in their four-game playoff series with the Vegas Golden Knights. Other than Mitchell, who came over from Mitchell, all are unrestricted free agents and will have to prove their value to get a new contract in the future.
Two Years Remaining
F Tyler Toffoli ($4.6MM, UFA)
D Jake Muzzin ($4MM, UFA)
D Derek Forbort ($2.53MM, UFA)
F Trevor Lewis ($2MM, UFA)
F Kyle Clifford ($1.6MM, UFA)
D Kurtis MacDermid ($675K, RFA)
G Jack Campbell ($650K, UFA)
Toffoli posted solid numbers for the fourth straight year, putting up 24 goals and 47 points as he enters the second year of a three-year, $13.8MM deal. The 26-year-old flashed some offensive potential two years ago when he scored 31 goals. Hoping that he might build on that number, Toffoli has scored just 40 goals in the past two years, so the team hopes he can return to an elite level soon. Muzzin is a solid top-four defenseman on a team that is loaded in defense and proved his value by putting up a career-high in points with 42, despite missing eight games last seasons.
Three Years Remaining
F Ilya Kovalchuk ($6.25MM, UFA)
D Dion Phaneuf ($5.25MM, UFA)
D Alec Martinez ($4MM, UFA)
F Tanner Pearson ($3.75MM, UFA)
The majority of the team's significant contracts are three years and above and the team added a critical addition in the offseason when they won the Kovalchuk sweepstakes as he chose Los Angeles over a number of other teams to sign a contract with. Many believe that Kovalchuk only signed with L.A. because they were the only ones to offer three years to the 35-year-old winger, but Kovalchuk adds a new element to the team's top line as he made it clear that he wanted the opportunity to play next to a top-line center. Kovalchuk, might not produce the type of numbers he did five years ago when he was with New Jersey, but Kovalchuk is still expected to post at least a couple of 20-goal seasons for the Kings. He did score 63 goals in his last two seasons in the KHL, so his abilities remain high.
While the Kings took on the contract of Phaneuf in order to unload Marian Gaborik, the team may have got an overpaid player in Phaneuf, but they have a player who can play in the top-four still and immediately provided the team with some quality defensive play upon joining the team. He may no longer have the elite skills of a top-pairing defenseman, but he's still good enough to provide important depth. Martinez has also been one of the team's top defenders even if his offensive output went down this year. After two season with at least 30 points, he dropped to just 25 points last year. However, his defensive presence and more importantly his shot-blocking skills have been key for the Kings. He blocked a career-high 206 shots last season.
The Kings handed Pearson a four-year, $15.MM deal after last season when he had a breakout season, scoring 24 goals in the 2016-17 season. Before that he had just 27 goals over his first two years. However, he regressed last year, finishing the season with just 15 goals. The team will need more out of the 26-year-old if they want to keep their success going.
Four Or More Years Remaining
F Anze Kopitar ($10MM through 2023-24)
D Drew Doughty ($7MM next season; $11MM through 2026-27)
F Dustin Brown ($5.88MM through 2021-22)
G Jonathan Quick ($5.8MM through 2022-23)
F Jeff Carter ($5.27MM through 2021-22)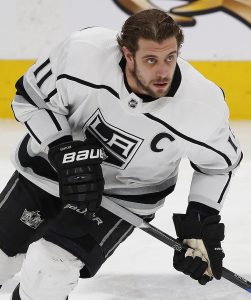 Kopitar, who inked an eight-year, maximum extension back in 2016, continues to prove his value to his contract as he posted up career numbers last year. The 30-year-old who once posted 81 points for the Kings back in the 2009-10 season, finally broke that career-high this year with a 92-point season, including a career-high 35 goals. While few people believe that Kopitar can repeat that type of success a second straight year, Kopitar should be good for 70-80 points and is likely going to be playing with Kovalchuk at his side, which can't hurt his numbers.
Doughty just signed an extension of his own this summer. While he'll make a solid $7MM next season, that number bumps up to a team-high $11MM for the next eight years after that. The extension came at the right time as the 28-year-old posted a career-high of 60 points last year, but an eight-year deal now will run until he's 36 years old, which could hurt the team's long-term outlook.
The 33-year-old Brown finally had a big season for the club. He scored 28 goals. However, Brown hasn't tallied that many goals since the 2010-11 season. In fact, his goal numbers have decreased since then as he went from 28 to 22 to 18 to 15 to 11 to 11 and then to 14 in the 2016-17. To assume that Brown, who is in the middle of an eight-year, $47MM deal, can repeat those goal numbers after five years of mediocrity is unlikely. Carter, however, may be the opposite. The 33-year-old suffered a severe cut to his left leg that forced him to miss all, but 27 games of the season last year. He still managed to score 13 goals upon his return, but Carter should return to his standard numbers this season as he's tallied at least 24 goals over the previous five seasons.
Quick bounced back after an injury-plagued 2016-17 season. As goaltender salaries continue to rise in the NHL, Quick is proving to be one of the best deals in the NHL at $5.8MM, which is right in the middle of NHL goalie salaries. Quick posted a 2.40 GAA and more importantly a .920 save percentage in 64 games. The team is so confident in his health that they traded solid backup Darcy Kuemper to Arizona and are using Campbell as their backup. The team even has a top goalie prospect in the wings in Cal Petersen, but it's unlikely that Quick will give him an opportunity to do more then eventually be a backup.
Buyouts
D Matt Greene ($833K in 2018-19)
Retained Salary Transactions
None
Salary Cap Recapture
F Mike Richards ($1.32MM through 2019-20)
Still To Sign
None
Best Value: Quick
Worst Value: Brown
(Excluding entry-level contracts)
Looking Ahead
The Kings are obviously hoping that the addition of Kovalchuk will push the Kings from a playoff team into a Stanley Cup contender, but they are also battling with time as much of the team is over 30 years old now. Even Kopitar has hit 30, suggesting that time is not on their side for very long. Add in that many of those mid-30 players are on long-term deals and the team will have some trouble adding too much more help, which will force them to look at youth. With a little luck a player like Vilardi or one of those college free agents can help, but so far they have had little help.
Photo courtesy of USA Today Sports Images.