It's been another trying year for the Buffalo Sabres, losing their coach and finishing dead last in the NHL. You can forgive a veteran player not wanting to go through that again, which makes Rasmus Ristolainen's comments to reporters including John Vogl of The Athletic and Mike Harrington of the Buffalo News today not much of a surprise:
I'm open for all the ideas. Right now, it's hard. Obviously the season just ended so, yeah, I'm frustrated and I'm pissed and it sucks. So I told him I'm open for all the scenarios: staying or if he trades me, I'm fine with that too.

For me, I can't go for another rebuild or wait multiple years. For me. I mean, we have to get to playoffs next year. For me, it's either here or then somewhere else.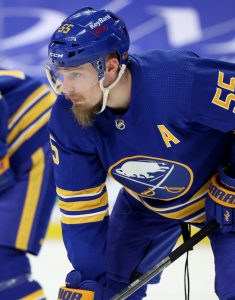 Ristolainen has now been in Buffalo for eight seasons but has yet to step foot on the ice of an NHL playoff game. He has seen six different coaches behind the bench since his debut in 2013, but none of them were able to get the team to even a .500 record. The 26-year-old defenseman has been a big part of those losses, averaging nearly 24 minutes a night throughout his Buffalo career, only to post an eye-popping -163 rating in 542 games. While +/- has its obvious flaws, Ristolainen has also posted poor possession numbers throughout his career and is likely playing a bigger role than he is truly capable of.
That is part of the problem in Buffalo, as the team hasn't been able to truly build out the depth of the program even while selecting at the top of the draft. The chatter surrounding captain Jack Eichel continues to increase, while first-overall pick Rasmus Dahlin also experienced regression this season, posting just 23 points in 56 games.
As painful as it will be, the Sabres may need to try a rebuild again, moving out veterans like Ristolainen who don't have much term left. The right-handed defenseman is signed through next season at a $5.4MM cap hit but is scheduled for free agency in the summer of 2022. Sam Reinhart, who is also one season away from UFA status, doesn't even have a contract for next year yet. He told reporters that he doesn't want to go through a rebuild either and hasn't thought about his next contract yet. Reinhart is an arbitration-eligible restricted free agent this offseason.
GM Kevyn Adams has a busy summer in front of him, deciding which direction to take the Sabres for 2021-22.
Photo courtesy of USA Today Sports Images