Since his explosive performance at the World Junior Championships as a powerplay quarterback and dynamic offensive presence, Colorado Avalanche prospect Cale Makar's name has been thrown around as a potential option for the Canadian Olympic team. According to Darren Dreger of TSN, Makar did in fact get an invitation to the team but has "respectfully declined."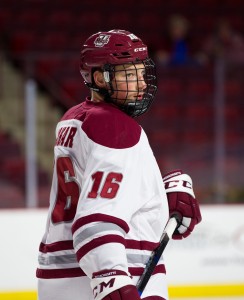 This option has also been mentioned recently, as Makar already took time off from his freshman year at UMass-Amherst and wanted to get back to his development path for the NHL. The fourth-overall selection in last year's draft, Makar had already said he was unlikely to stay in the NCAA for more than "one or two years" meaning the next few months could be his only time spent outside the professional ranks. With his performance so far this year the Avalanche must already be counting the days until he gets into their system, and he could even play a role for them down the stretch this season.
None of that is to say that the Olympics would prevent him from turning pro this season. But if Makar believes his long-term future would be adversely affected by another stint away from his college team (and studies, for that matter) this decision is understandable, if a little surprising. He'll almost undoubtedly play more important minutes with his college team than what he would be asked to do for Team Canada.
The Canadian squad will have to go without his dynamic playmaking, and according to Dreger likely won't have the speed of Jordan Kyrou either. Dreger reports that no CHL players are expected to be named as of right now. Victor Mete, another potential option, is still with Montreal following his World Junior stint and could be in the NHL the remainder of the season.