There's not much doubt that the Tampa Bay Lightning are currently the best team in the NHL, and the favorites to win the Stanley Cup. Even with the outstanding performance of the Vegas Golden Knights so far this season, not many would choose to face the Lightning over them in the first round of the playoffs. With two potential Hart Trophy candidates up front in Nikita Kucherov and Steven Stamkos, the Vezina front-runner in Andrei Vasilevskiy and a perennial Norris-level defenseman in Victor Hedman, the Lightning have impeccable strength at every position.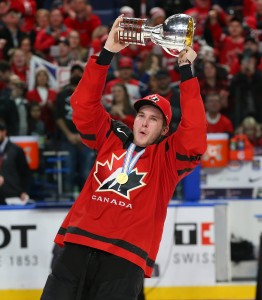 Amazingly, it's not just at the NHL level that they have talent. Brett Howden, Boris Katchouk, Taylor Raddysh and Cal Foote take home gold at the World Junior Championship, all four Tampa Bay Lightning prospects. Libor Hajek, who was traded earlier today in the WHL, logged huge minutes for his Czech squad en route to a fourth-place finish. That's to say nothing of Mikhail Sergachev who could have represented Russia if he wasn't already in the NHL, and the four other prospects who suited up last year. The Lightning have a true pipeline of talent coming through their system, and should be able to replace any outgoing players from within.
But for this season, perhaps that load of prospect capital could be used to improve. Whether through dealing actual players, or the picks that Tampa Bay doesn't desperately need this season, the Lightning could be big spenders at the deadline to make them even tougher down the stretch.
When looking for cracks on the roster, there aren't many. If there was one worry it could have been the play of Peter Budaj, who struggled until his recent injury. Louis Domingue may have solved that, acquired from the Arizona Coyotes and looking refreshed in the AHL and his Lightning debut this weekend. While Vasilevskiy is the clear starter, having a capable backup is key for any team looking for a Stanley Cup.
Up front they possess perhaps more depth than any other team in the league. An incredible six forwards already have 30 points for the Lightning, with Ondrej Palat and Alex Killorn additionally notching 27 and 24 respectively. Even though Chris Kunitz and Ryan Callahan aren't scoring, they provide some experience for a Stanley Cup run. One more scoring threat could help, but it certainly isn't necessary.
So then the last few spots on defense may be the easiest place to find an upgrade. Though Hedman and Anton Stralman are horses, they're being relied on quite a bit for the Lightning both at even strength and on the penalty kill. Dan Girardi and Braydon Coburn, the other two penalty killing options for the club, aren't very effective at even-strength. Both players have one more year on their contracts, but don't seem particularly locked into a role for next season. Not, at least, if the Lightning can go out and find another top-4 option on the open market.
It's not like they don't have internal options. Sergachev and Jake Dotchin have their place on the club, and both are getting increased minutes of late. Slater Koekkoek and Andrej Sustr are both still there, but neither have shown that they're ready to step into a bigger role.
Amazingly, the Lightning even have cap space to burn. Not going forward, as they'll have to re-sign Kucherov before long and Vladislav Namestnikov is due for a new contract this summer. But for this year, according to CapFriendly they could add approximately $9MM in cap hits at the deadline and still stay cap compliant. That's a huge number for a team that doesn't have any glaring needs, and it could result in them stealing one of the top rentals to make them even better. That's a scary thought for the rest of the Eastern Conference, and perhaps even the whole league.