With the trade deadline now just a few days away, we will be taking a closer look at the situation for each team over the coming weeks.  Where do they stand, what do they need to do, and what assets do they have to fill those needs?  Next up is a look at the Dallas Stars.
The Stars look to have a lock on a playoff spot as they hold one of the top three records in the Central Division this season and with the next closest team seven points behind, it's unlikely that Dallas is in danger of falling out of the playoff race. However, they are in quite the battle with both the Colorado Avalanche and St. Louis Blues for the Central Division lead and could gain a distinct advantage if they could come out on top of the division with the chance to face off against a wild card team as opposed to playing one of those two teams, which is going to make the Stars as buyers.
Record
35-20-6, third in the Central Division
Deadline Status
Buyer
Deadline Cap Space
$4.75MM in a full-season cap hit, 0/3 used salary cap retention slots, 48/50 contracts per CapFriendly
Upcoming Draft Picks
2020: DAL 1st, DAL 4th, DAL 5th, DAL 6th
2021: DAL 1st, DAL 2nd, DAL 3rd, DAL 4th, DAL 5th, DAL 6th, DAL 7th
Trade Chips
Perhaps the biggest problem for the Stars is that their assets don't match those of the Colorado Avalanche or even St. Louis. The Stars were quite active a year ago when they acquired Mats Zuccarello and Ben Lovejoy at the trade deadline, which cost them several draft picks and traded several other picks earlier than that, which leaves the team short a second and third-round pick for this coming draft and it would seem unlikely the team would trade their first-rounder this year. However, the team does have its full complement of picks for the 2021 season, so Dallas has some picks available if it wants to add a player a the deadline.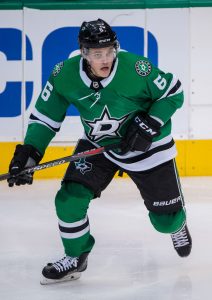 Another trade chip, although not a big one, might be Julius Honka, whose rights still belong to the Dallas Stars even though he is playing the season in Finland with Jyp HT Jyvaskyla in the Liiga. The 24-year-old was a highly-touted first-round pick in 2014, but failed to earn a full-time role with the Stars in 87 NHL games and finally requested a trade. However, few teams showed interest this past summer and Honka opted to sign overseas. He has four goals and 15 points in 38 contests in the Liiga and could have generated enough interest for a team to make an offer on him.
The team is highly unlikely to move their top prospects in forward Jason Robertson, defenseman Thomas Harley and goaltender Jake Oettinger. However, the team has some secondary prospects, including Ty Delandrea, Ben Gleason, Oskar Back and Adam Mascherin.
Five Players To Watch For: F Oskar Back, F Ty Delandrea, D Ben Gleason, D Julius Honka, F Corey Perry.
Team Needs
1) Top-Nine Forward: The Stars are always in need of scoring that can add to the team's offense, but the real question is whether the team has the assets, or more importantly, is willing to spend what it might take to go out and get a top player like it did a year ago. However, with random injuries and the team trying hard to have three equal lines at the top, the team could use a goal scorer, who can add to the team. However, with the high cost so far for top players, it might seem unlikely that general manager Jim Nill pulls the trigger.
2) Forward Depth: It's far more likely that Dallas is a top candidate to go out and add some depth to their bottom-six, which could be quite a bit cheaper than for the team. Throw in the fact that there is little cap room with which to maneuver on this roster and this is the more likely scenario, picking up a veteran that can help out and serve as a replacement if there are any other significant injuries in the stretch run.
Photo courtesy of USA Today Sports Images.