The Toronto Maple Leafs have locked up one of their key restricted free agents, signing Travis Dermott to a new two-year contract. The deal will carry an average annual value of $1.5MM. PuckPedia reports that it will pay Dermott $1.25MM in 2021-22 and $1.75MM in 2022-23.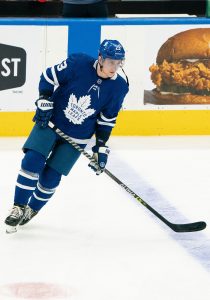 Dermott, 24, was eligible for arbitration this summer but has decided to forego that process in favor of a little contract security. The $1.5MM represents a nice raise from the $874K qualifying offer he signed last year and makes him an affordable NHL option for the Maple Leafs. The question now is whether Toronto will even be able to keep the young defenseman, as the looming expansion draft could end up putting him on a plane to Seattle.
The Maple Leafs currently have Jake Muzzin, Morgan Rielly and T.J. Brodie to protect in the draft, meaning both Justin Holl and Dermott are at risk of selection. That is of course unless the team decides to go the eight-skater protection route, though that would still leave at least one of them on the table given the "core four" at forward that will need to be protected.
Of course, having valuable assets is never a bad thing, and Dermott still brings plenty of upside to the table. The 2015 second-round pick has shown an ability to step into the top-four at times, though the opportunity to do that has been rare, and with improved depth for the Maple Leafs, this season saw his average ice time decline to just over 13 minutes.
If that's the role the Maple Leafs have penciled in for him next season, losing him to Seattle certainly wouldn't be the end of the world. The team has top prospect Rasmus Sandin ready to step into the NHL and could even replace 13 minutes a night rather easily on the open market. It's the growth that Dermott still may experience that is the real value here, especially if the team parts ways with Rielly at some point. The 27-year-old franchise pillar is an unrestricted free agent at the end of next season and has drawn some trade speculation over the last few weeks, given the Maple Leafs' tight cap situation. Retaining Dermott would give them some added depth to replace Rielly if they did move him this summer, though it would certainly be a downgrade for the team.
Though they do still have a few minor league names that will reach restricted free agency, Dermott was the only real pressing negotiation this summer. Now the attention will turn to pending unrestricted free agents like Zach Hyman and Frederik Andersen.
Photo courtesy of USA Today Sports Images