11/25: Harkins is back up with the big club as the team announced that he has once again been recalled from Wilkes-Barre/Scranton.
11/24: Shortly after the start of their game against the Sabres, the Penguins announced they had reassigned Harkins to the AHL.
11/23: The Pittsburgh Penguins have recalled forward Jansen Harkins from their AHL affiliate, the Wilkes-Barre/Scranton Penguins.
Harkins has shuttled from Wilkes-Barre/Scranton and Pittsburgh quite a bit over the last week. It started November 18th, when Harkins was recalled from the AHL Penguins and then sent back down in a span of just two hours.
Then, in transactions also involving forward Alex Nylander, Harkins was recalled from the AHL on November 21st, and then sent back down yesterday. Today, Harkins returns to the Penguins' roster.
This doesn't appear to be the sort of cap maneuvering many teams do in order to bank cap space over the course of the season, as he has actually spent most of the season playing in the AHL. In other words, Harkins isn't an NHL player that the Penguins repeatedly send to the AHL in order to bank cap space.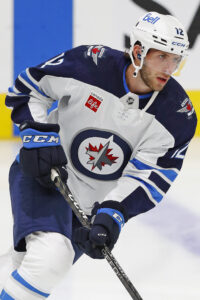 Instead, it appears Harkins, who last played in the NHL on October 18th, is continually being recalled and then reassigned from the NHL roster for two potential reasons.
Firstly, the club could be recalling him due to the genuine potential of Harkins dressing for an NHL game. The 26-year-old has already played in four games this season for the Penguins and is a well-liked, versatile bottom-six forward.
Another reason, and one that appears to potentially be the more likely explanation, could be to maintain the Penguins' flexibility as to where Harkins can be assigned within their organization.
Although the Penguins have played Harkins in 11 AHL games this season compared to just four in the NHL, they undoubtedly have an interest in keeping Harkins as a call-up option in case injuries strike their NHL roster.
Although Harkins cleared waivers for the Penguins in October, that does not give the club an unlimited right for the rest of the season to shuttle Harkins between teams at will. Harkins only remains exempt from waivers so long as he does not remain on the NHL roster for more than 30 cumulative days since he last cleared waivers, or plays in 10 or more NHL games since that point.
So, it is in the Penguins' best interest to keep Harkins on their NHL roster on a relatively strict basis, only holding him with the main squad when absolutely necessary in order to minimize the days that count against the 30-day total.
Of course, it is true that Harkins has already cleared waivers and therefore could very well clear once more should he need to be waived again this season. But as we get deeper into the regular season and attrition caused by injuries truly sets in for many teams, a versatile bottom-six forward like Harkins becomes a more attractive player to claim on waivers.
The more players teams across the NHL lose to injury, the less likely it becomes that Harkins is able to pass through waivers. So in order to maximize how long Harkins remains waiver-exempt, the Penguins will be recalling and reassigning Harkins with more frequency than they would most other players.
From Harkins' perspective, while it can't be fun to be reassigned to the AHL just two hours after a recall, he does happen to be playing on a one-way contract. As a result, he makes $875k regardless of whether he's on the AHL or NHL roster, so these moves have little consequence for his bottom line.
That being said, that's not to say these moves aren't of great consequence for some players. As with any roster moves in a three-tiered organization, these recalls and reassignments have a ripple effect on other players. Harkins' recall yesterday meant he could not play in the AHL Penguins' contest against the Hershey Bears.
As a result, the Penguins called up 23-year-old undrafted forward Cédric Desruisseaux from their ECHL affiliate, the Wheeling Nailers. A former QMJHL MVP, Desruisseaux has spent most of his young career in the rough-and-tumble ECHL, putting in work each game just to earn a shot at the AHL level.
He got two AHL games in 2021-22, but did not play in the AHL for the entirety of 2022-23 despite scoring 30 goals and 59 points for the Nailers.
The recall of Harkins paved the way for Desruisseaux to play his first AHL game as a member of the larger Penguins' organization. So yes, this constant roster shuffling is certainly not something Harkins is likely to enjoy. But one player higher on the hockey food chain's less-than-ideal circumstance can lead to another player's potentially career-altering chance to prove himself in a higher league.
Photos courtesy of USA Today Sports Images