Free agency is now a little less than a month away from opening up and there are quite a few prominent players set to hit the open market while many teams have key restricted free agents to re-sign.  Here is a breakdown of Edmonton's free agent situation.
Key Restricted Free Agents: F Ryan Strome – When GM Peter Chiarelli and the Oilers decided last summer that Jordan Eberle had to be moved out because of his high-priced contract, the eventual return was the underperforming but talented Strome. The team enjoyed a $3.5MM cap cut, while hoping that the 24-year old forward could find his footing in Edmonton. After all, Strome was a fifth-overall pick who had scored 17 goals and 50 points in 2014-15, and could perhaps be relied upon as a long-term option down the middle.
Now, after another disappointing season where Strome's below average skating was exposed on a team that lacked speed, and he struggled to maintain any kind of offensive consistency at center or the wing, there's some uncertainty about where his future lies. As a restricted free agent, he doesn't have a great case for a substantial raise over the $2.5MM cap hit he carried each of the last two seasons. After scoring just 34 points in 82 games—an even worse pace than his final year in New York—it's not clear if he's part of the problem or can still be part of the solution in Edmonton. He certainly won't cost as much as Eberle's $6MM cap hit in 2018-19, but neither side may look for a contract that stretches far beyond next season.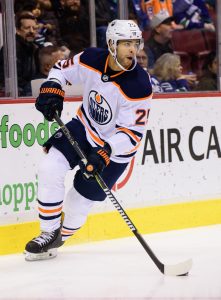 D Darnell Nurse – Perhaps the biggest problem in Edmonton this year was that several of their defensemen took substantial steps backwards, but one can't really say that about Nurse. The 23-year old set career highs in games played, minutes played, goals, assists, points, +/-, penalty minutes, shots, hits and blocks, essentially leading the entire Oilers defense corps in nearly every category. He followed that with a big role on Canada's IIHF World Championship team, and looks ready to blossom into the player Edmonton was hoping for when they selected him seventh-overall in 2013.
Still, it's not clear exactly how long a contract the Oilers can afford to give their young defenseman. With so much money tied up in Connor McDavid and Leon Draisaitl, the team has to be careful how they spend the rest of their cap. Nearly $20MM of the remaining funds are already committed to Andrej Sekera, Oscar Klefbom, Kris Russell and Adam Larsson for the next three seasons, meaning any deal buying out unrestricted free agent years for Nurse is likely too expensive to take on right now. That still leaves plenty of room for a short-term deal, but he's the one heading into negotiations in a position of leverage after a career year.
Other RFAs: F Anton Slepyshev, F Iiro Pakarinen, F Drake Caggiula, D Matt Benning, F Braden Christoffer, D Ben Betker, F Patrick Russell, F Kyle Platzer
Key Unrestricted Free Agent: F Mike Cammalleri – A few seasons ago, the idea of Cammalleri walking in free agency might be a big story. Now, the veteran forward is just hoping for another contract. Cammalleri came to the Oilers in a midseason swap with the Los Angeles Kings, and found some of his old offensive juice for the team. With 22 points in 51 games he was relatively effective, and cost them very little in terms of salary. That could be a reason to bring him back on another incentive-laden contract, but there are likely bigger fish to fry in the coming weeks, as the team prepares for the draft and negotiates with the above listed RFAs.
Cammalleri will turn 36 in just a few days, and isn't by any means a necessary piece for the Oilers to bring back. After agreeing to a $1MM contract with $200K in performance bonuses last season, he may be even less expensive if they decide his experience is worth the money and roster spot in 2018-19.
Other UFAs: D Yohann Auvitu, G Laurent Brossoit, F Brian Ferlin, D Mark Fayne, D Dillon Simpson, D Joey LaLeggia, F Grayson Downing
Projected Cap Space: It's never a good thing when a team that missed the playoffs doesn't have a lot of cap space, but that's the situation the Oilers find themselves in. With just around $15MM in projected cap space for next season depending on where the upper limit lands, they won't have a ton of space to find upgrades after re-signing their restricted free agents. That, and the lack of success despite another fantastic season from McDavid, is a reason why Edmonton is linked to nearly every rumored player on the market at one point or another.
There have been rumors in the past about Ryan Nugent-Hopkins potentially being available as the team looks to clear money, but after finding a home alongside McDavid on the top line he likely is now off limits. If the team could find a taker for Milan Lucic or one of their aging defensemen they likely would jump on the opportunity, but it won't be easy. Chiarelli and his staff also need to prepare for their upcoming goaltending conundrum, as Cam Talbot and the newly signed Mikko Koskinen are unrestricted free agents in the summer of 2019.
Photo courtesy of USA Today Sports Images