As the holiday season approaches, PHR will look at what teams are thankful for as the season nears the quarter point of completion. There also might be a few things your team would like down the road. We take a look at what's gone well in the first month and what could improve as the season rolls on. So far we've covered ANA, ARZ, BUF, CGY, CAR, CBJ, COL, DET, LAK, NSH, NJD, NYI, STL, TOR, VAN, VGK and WSH.
What are the Florida Panthers most thankful for?
The upcoming 2018 draft class.
It's not that the Florida Panthers are already out of playoff contention. They're not. It's that even if this season doesn't turn around, and they do end up finishing where they are right now—that is, 28th out of 31 teams—they'll be in fine shape at next year's draft. The team already has some solid pieces up front, and two impressive young defensemen locked up long-term in Aaron Ekblad and Mike Matheson, but they need more on the back end and they know it. Luckily, this year's draft class has several potential franchise-changing options on defense.
Rasmus Dahlin, projected at the moment to go first-overall is already a star in Sweden and could make his country's Olympic squad before he turns 18. Adam Boqvist, another Swede, is just about as impressive and oozes elite offensive upside. Quinn Hughes and Ryan Merkley are both puck-rushing dynamos, though similarly undersized. If the small, mobile defender isn't your thing, Noah Dobson, Jared McIssac, Bode Wilde and Evan Bouchard all carry more weight and two-way ability, though in different ways. In a nutshell, this year is loaded with defensive talent.
Florida has an extra thing going for them in the draft. While they don't have their own second-round pick, they do have Arizona's. Since the lottery only moves picks in the first round, and Arizona looks poised for another stint at or near the very bottom of the league, the Panthers are looking at selecting their second player somewhere in the early-thirties regardless of what they do for the rest of their season. There should still be plenty of talent in the early second.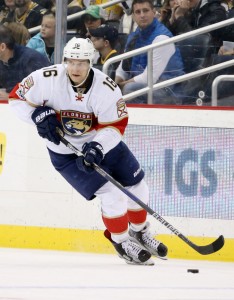 Who are the Panthers most thankful for?
Quite simply, Barkov is a superstar. Not only is he well on his way to a career-high in points, currently sitting at 26 in 27 games, but he should receive Selke votes as one of the league's best defensive forwards for the fourth straight year. Though he's never won the trophy, it's important to note that he's still just 22-years old and already playing 23 minutes a night as one of the best two-way centers in the league. Not to mention that he's signed for just $5.9MM for four more seasons and is on pace for his first 30-goal season. There's no doubt that Florida has made some mistakes over the past few years, but signing Barkov long-term immediately wasn't one of them.
Surrounding Barkov are Vincent Trochek and Jonathan Huberdeau, two other young stars not yet even halfway through their twenties. Both are basically point-per-game players this season, and though the Panthers clearly rely on those three more than a winning team should need to, they represent an excellent core to build around. All three are signed through at least 2021-22, giving the team more than enough time to give them the support they need.
What would the Panthers be even more thankful for?
A do-over at the Expansion draft.
It was obvious when Dale Tallon regained control of the Panthers that he didn't agree with some of the decisions made by Tom Rowe and his more analytical-driven team. One of those decisions was Reilly Smith's $25MM extension, which Tallon jettisoned at the expansion draft just before it was set to kick in. To rid their books of Smith's contract, they left Jonathan Marchessault available for the Vegas Golden Knights to select, handing over a 30-goal scorer that was owed just $750K this season. Though it was considered a budget-slashing move at the time, just a few weeks later the Panthers signed Evgeni Dadonov to a three-year, $12MM contract and then handed Radim Vrbata $2.5MM on the open market.
Sure, Dadonov has been a very good player for the Panthers this season and Vrbata doesn't come with the same long-term risk that Smith's deal represented, but after watching the duo rack up 46 points through the first part of the season on playoff-bound (for now) Golden Knights there has to be some regret. Florida had to lose a player, as every team did, but sending Smith, allowing Marchessault to be selected, and receiving just a fourth-round pick in return looks like a huge blunder at this point. At the very least, Marchessault would have been worth much more than that as a rental player if this season had still ended up poorly.
What should be on the Panthers' Holiday Wish List?
A bubble to keep Roberto Luongo healthy after he returns.
The Panthers are without their starting goaltender once again, as Luongo is out for some time with what is expected to be a groin injury. While James Reimer was signed for this very reason, he hasn't been nearly good enough this season to inspire much confidence. Luongo, 39 in April, has been having his best season in years between injuries, recording a .928 save percentage and generally looking as sharp as ever. Reimer on the other hand has just an .892 mark (easily the worst of his career) and hasn't been able to find his game just yet.
It's likely that Reimer rebounds at least somewhat to the .914 goaltender he's proven to be throughout his career, but if the Panthers are to make any run at a playoff spot this year they'll need this to be the last injury of the season for Luongo. If Barkov and company can drag them a bit closer, perhaps the veteran goaltender can lead a late-season surge towards respectability.
Photo courtesy of USA Today Sports Images