As the holiday season approaches, PHR will look at what teams are thankful for this year. There also might be a few things your team would like down the road. We take a look at what's gone well in the first month and what could improve as the season rolls on. 
What are the Arizona Coyotes most thankful for?
An impressive 2018 draft class.
The Coyotes have just seven points through 20 games, and have yet to win in regulation. Even with a rebuilt blue line that includes newcomers Niklas Hjalmarsson and Jason Demers, the team has allowed an incredible, league-leading 79 goals against this season. They're now 17 points behind the Los Angeles Kings in the Pacific Division, and would need an absolute miracle to claw their way back into the playoff race.
Luckily, the 2018 draft class is shaping up to be a good one. Finishing last in the league obviously doesn't guarantee you the first-overall pick (just ask Colorado) but it does get you into the top four. Though Rasmus Dahlin looks like a franchise-altering presence at the top, there are four or five other elite prospects with superstar potential. After trading away the seventh-overall pick this summer, it seemed like the Coyotes were done waiting on prospects. Now they might need to hitch their wagon to a new one.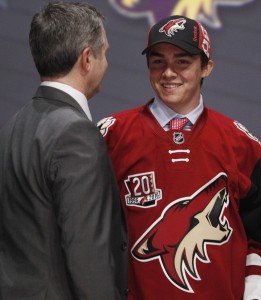 Who are the Coyotes most thankful for? 
The Coyotes have seen their fair share of busts over the years, but their 2016 draft looks like a good one. Jakob Chychrun has been injured all season, but made the jump to the NHL right away last year and kept his head above water. He's expected back at some point, and will likely take on an important role on the blueline once again. But it's Keller that is really turning heads around the league.
The seventh-overall pick from 2016 has 17 points in 20 games this season including 11 goals. That number puts him fifth in the league, and in front of the pack in terms of Calder Trophy voting (though it is anything but decided yet). His development into an All-Star talent is something every Coyotes fan can cheer about, even in what has become another dreadful season.
What would the Coyotes be even more thankful for? 
A win (or two).
It's not that the Coyotes needed to compete for the Stanley Cup this year, but after all the trading this offseason they were at least expected to improve. Last year's club finished 30-42-10 even with Radim Vrbata as their most dangerous forward and a sale at the deadline of Michael Stone and Martin Hanzal. That club was still one of the worst in the league, but not a disaster on a nightly basis.
Hjalmarsson, Demers, Derek Stepan and Antti Raanta all cost the team young or future assets (not to mention money), and were supposed to push the team towards a playoff spot. That hasn't happened and now they're left scratching their heads wondering which direction to go in.
Oliver Ekman-Larsson remains the biggest target of trade speculation, as his current contract ends after next season. But who would rule out any of the veterans on this team at this point? If the season isn't turned around quickly, the seat will get warmer and warmer for young GM John Chayka and the pressure to make a move will increase. They shouldn't be as bad as they are, but who would fault him for planting a "For Sale" sign outside the arena near the deadline once again?
What should be on the Coyotes' Holiday Wish List? 
Needy GMs.
There's nothing to add to the roster to make it a playoff contender at this point. One or two additions wouldn't fix what's ailing the Coyotes, and the front office must know it. Making more short-term moves wouldn't help the team, so instead they'll be wishing for a desperate contender near the deadline.
Last year, they moved a pending UFA in Hanzal for a first and second-round pick from Minnesota in a deal that the Wild regretted just a few months later. That sort of desperation is exactly what the team will hope for again this season, to try to squeeze some value out of a team in the middle of an arms race. Remember that Raanta is an unrestricted free agent at the end of the year, and carries just a $1MM cap hit this season.
It's a tough thing to hope for this early in the year, but there's not a lot more on their wish list at the moment. Chayka will be patient as their schedule eases a bit as we head into the winter, but in the desert no seats ever get truly cold.
Photo courtesy of USA Today Sports Images