As the holiday season approaches, PHR will look at what teams are thankful for as the season nears the quarter point of completion. There also might be a few things your team would like down the road. We take a look at what's gone well in the first month and what could improve as the season rolls on. So far we've covered ANA, ARZ, BUF, CGY, CAR, CBJ, COL, DET, LAK, NSH, NYI, STL, TOR, WSH, and VGK.
What are the Devils most thankful for?
Patience being rewarded.  New Jersey has slowly added core pieces each year and has quietly transformed from a defensive-oriented trapping team to an up-tempo one that finds themselves in the top-ten in goals.  Instead of being a team that many had earmarked for a place at or near the bottom of the Metropolitan Division, they're within striking distance of the top spot.
Who are the Devils most thankful for?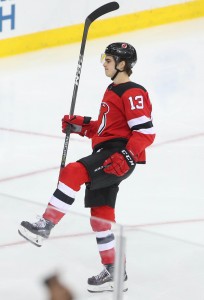 Having 2017 first-overall pick center Nico Hischier is a nice centerpiece to build around.  He has adapted quite well to the NHL game already despite there being some concerns about his slender frame heading into the season.  While some teams have opted to play top center prospects on the wing early on in their careers, New Jersey has kept Hischier down the middle and he has more than held his own with 18 points through his first 25 games (although his 39.1% faceoff rate will need to improve over time).  His emergence helped make it easier for the team to trade Adam Henrique to add defenseman Sami Vatanen earlier this week.
While Cory Schneider isn't mentioned among the top goaltenders in the league, he has provided the Devils with above average goaltending since they traded the ninth-overall pick in 2011 (Bo Horvat) to Vancouver to secure his rights.  He's on a strong contract at $6MM through 2021-22 which means they should get high-quality performances between the pipes for several years to come.
[Related: Devils Depth Chart from Roster Resource]
What would the Devils be even more thankful for?
Travis Zajac returned to the lineup back on November 16th after returning earlier than expected from surgery to repair a torn pectoral muscle and after recording 40 or more points in three of the last four seasons, it was hoped that he would help add another layer to their attack.  That hasn't happened as he has yet to record a point through his first eight games this season despite averaging 16:46 per night.  It's still pretty early for him but if he can get going, New Jersey's offence is going to be quite a bit stronger.
What should be on the Devils' Holiday Wish List?
This may sound odd coming on the heels of trading for an impact defenseman in Vatanen but they still need some help on that end.  Rookie Will Butcher is off to a strong start but they have been trying to shelter him and limit his minutes while John Moore and Ben Lovejoy are better served as depth defenders.  They've taken a big step towards improving their back end but if they could land another top-four blueliner, they could really solidify things there while positioning themselves well to continue to contend in the Metropolitan.
Photo courtesy of USA Today Sports Images.