As the holiday season approaches, PHR will look at what teams are thankful for as the season nears the quarter point of completion. There also might be a few things your team would like down the road. We take a look at what's gone well in the first month and what could improve as the season rolls on. So far we've covered ANA, ARZ, BUF, CGY, CAR, COL, DET, LAK, NYI, STL, WSH, and VGK.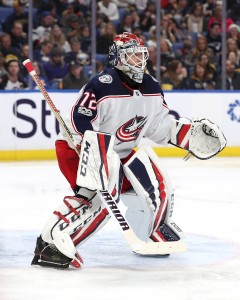 Who are the Columbus Blue Jackets most thankful for?
It's simple, the Blue Jackets aren't scoring enough this season. Artemi Panarin leads the team in points with just 16 through 24 games, but another Vezina-worthy season by Bobrovsky and solid defensive play still has them as one of the best teams in the Eastern Conference.
The Russian netminder is actually putting up better numbers than either of his Vezina-winning years, both of which put him in the top-5 in Hart Trophy voting as well. In 2012-13 he recorded a .932 save percentage and 21-11-6 record in a lockout-shorted season, while last year he went 41-17-5 with a .931 mark. This year he's off to an incredible 14-5-1 record with a .935 save percentage. He's allowing just 1.92 goals per game and already has three shutouts.
Bobrovsky is an unrestricted free agent following the 2018-19 season.
What are the Blue Jackets most thankful for?
Their 15-8-1 record.
With just 69 goals scored this year the Blue Jackets could have easily found themselves near the bottom of the Metropolitan. After all, five other teams in the division have more goals than them on the year and they're tied with Philadelphia who have lost eight in a row.
That's the effect of good goaltending and defense though, and you can certainly bank on the offense coming around at some point. With Alexander Wennberg returning to the lineup tonight, and Cam Atkinson looking more dangerous of late the Blue Jackets should start lighting the lamp with more frequency. If that happens while Bobrovsky is still at the top of his game, watch out.
What would the Blue Jackets be even more thankful for?
A working powerplay.
The Blue Jackets rank dead last in powerplay efficiency this season with just six goals in 67 chances, and have scored just once with the man advantage in their last eleven games. That number is driving their poor offensive showing and it simply must be fixed. Last year saw Sam Gagner deliver powerplay points by the bushel early in the year, and Wennberg racked up assists all year long.
If head coach John Tortorella had his way the media would stop talking about the powerplay all together. Speaking to Brian Hedger of NHL.com last night Tortorella showed his frustration:
I am tired of dissecting our power play. We had 10 chances on the power play. Tonight's problem was we didn't finish. We developed a lot of scoring chances on it. This is my last night speaking on the power play, because I'm tired of talking about it. I'll leave it at that.
What should be on the Blue Jackets Holiday Wish List?
A top-six forward, preferably with some powerplay talent.
The Blue Jackets were in on Matt Duchene, but Colorado waited for the perfect package and ended up with a haul when they involved a third team in the swap. While that doesn't neccessarily mean the Blue Jackets will be in on every top name, it's clear that they want an upgrade. While a center would be nice, another scoring winger could help them at this point in several different situations.
You have to wonder if players like Evander Kane, James van Riemsdyk and James Neal would be a fit for Columbus given their goal-scoring abilities and big frames, but whether the team wants to give up a considerable asset for a rental is another story. The Blue Jackets aren't just built to contend this season, and don't have to make a move out of desperation just yet.
Photo courtesy of USA Today Sports Images