As the holiday season approaches, PHR will look at what teams are thankful for as the season nears the quarter point of completion. There also might be a few things your team would like down the road. We take a look at what's gone well in the first month and what could improve as the season rolls on.
What are the Blues most thankful for?
After being known as a two-way, grind-it-out type of team under Ken Hitchcock, St. Louis has been a lot more aggressive and up-tempo under Mike Yeo.  It's impossible to not be happy with the results as the Blues find themselves sitting atop the Western Conference.  There is a lot of optimism with the team and this new playing style at the moment and justifiably so.
Who are the Blues most thankful for?
Back at the draft, St. Louis paid what some might call a steep price to get Brayden Schenn out of Philadelphia.  They moved two first-rounders (plus Jori Lehtera to partially match money) for someone who had primarily been a second-line winger with the Flyers.  Fast forward to today and Schenn has become a dominant top-line center and is already more than halfway to his career high in points in just 23 games.  He has provided them with everything they could have asked for and more.
Another beneficiary of Schenn's acquisition has been Jaden Schwartz.  He has found a home on the wing on that top line and is also producing at a rate that is vastly beyond anything he has put up in the past.  Those two alongside Vladimir Tarasenko have given the Blues a dominant top line at a level that they haven't had in quite some time.
[Related: Blues Depth Chart from Roster Resource]
What would the Blues be even more thankful for?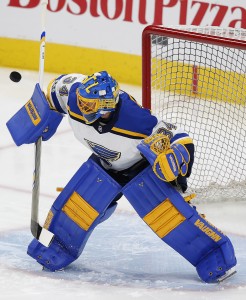 In this day and age, it's hard to imagine that a team fighting for first overall in the league could be looking for better performances between the pipes but that's the case with Jake Allen.  Through 18 starts, he has posted a save percentage of .909 which checks in slightly below the NHL average of .911.  His goals-against average (2.74) is only slightly better than the league average (2.80).  Right now, St. Louis is winning on the backs of their offense.  If Allen can return to his typical form, that would go a long way towards giving themselves some security if that top line starts to slump (and if that doesn't happen, they would become that much more dominant).
What should be on the Blues' Holiday Wish List?
While St. Louis hasn't had much issue scoring so far this year, it has been primarily on the backs of that top line; secondary scoring has largely been sporadic.  They've gotten away with it so far but finding someone that can produce consistently to play in a second or third line role would certainly be beneficial.  Patrik Berglund is nearing a return to action and could help but if he isn't able to get it done, they'll have to look elsewhere.  Considering they won't have much cap room to work with once Berglund is activated, that move may have to wait until closer to the trade deadline.
Photo courtesy of USA Today Sports Images.